Warren Zevon • Excitable Boy
Audio Fidelity/Elektra Stereo SACD AFZ 166
Hybrid SACD
1978/2013
| | | | | | | |
| --- | --- | --- | --- | --- | --- | --- |
| Music | | | | | | |
| Sound | | | | | | |
by John Crossett | June 14, 2014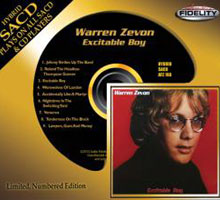 ntil the release of Excitable Boy, Warren Zevon was a struggling singer/songwriter. He had recorded his debut album and it flopped commercially. But thanks to a friendship with emerging star Jackson Browne, who produced Excitable Boy, his sophomore effort turned into the album that caught the public's attention and made Zevon a household name. It featured songs that gave vent to his natural cynicism and collected some of his most memorable work while still holding true to his dark, sarcastic musical vision. From this point on, a new Warren Zevon release was something that merited attention. This album is a classic, a fitting memorial to Warren Zevon, and one we should all have in our libraries.
We should also be thankful for whoever at Audio Fidelity had the wisdom to reissue it. Many of the pop/rock choices on audiophile labels have been questionable at best, but here we have a true fan favorite. Kudos should also go out for having the foresight to use Steve Hoffman as the remastering engineer. Hoffman truly loves music (of all sorts) and has acute ears, so what we get here is as close to the master tapes that Hoffman demands to use as possible.
I don't have the original LP on hand for comparison (which wouldn't be an apples-to-apples comparison anyway), but I do have the Red Book CD, and it's not close. Zevon's voice sounds fuller, more rounded and more realistic. I can hear more of its quirky character than on the CD. The instruments also display more clarity, roundness and realness, along with better separation, tone and timbre. There is also more in the way of micro detail, such as the organ fades on "Roland the Headless Thompson Gunner" and the blending of the vocal harmonies of The Gentlemen Boys on the same song and "Accidentally Like a Martyr." If your system has the resolving power, you'll be able to pick out Linda Ronstadt and Jennifer Warnes singing harmony on the title track.
If you're a digital audiophile and love Zevon, adding this disc to your library becomes a no-brainer. If you're new to Warren Zevon's music (which is hard to believe), consider this the perfect place to introduce yourself to one of the great songwriters of the '70s and '80s.