Verdi • Messa Da Requiem
Chicago Symphony Orchestra, Riccardo Muti conducting; Chicago Symphony Chorus, Duane Wolfe directing; Barbara Frittoli, Olga Borodina, Mario Zeffiri and Ildar Abdrazakov, featured vocal soloists
CSO-Resound CSOR 901 1008
Hybrid Multichannel SACD
2010
| | | | | | | |
| --- | --- | --- | --- | --- | --- | --- |
| Music | | | | | | |
| Sound | | | | | | |
by Richard S. Foster | November 29, 2010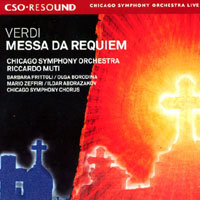 n a year filled with wonderful classical recordings, this may just be the finest of them all. Riccardo Muti became chief conductor of the Chicago Symphony Orchestra (CSO) at the beginning of 2009. Instead of melting into the fabric of the orchestra and playing well-known repertoire, he jumped right into the deep end, performing this demanding Verdi work. The Requiem was written in 1874 to commemorate the death of Allesandro Manzoni, a famous Italian writer who is best known for the novel The Betrothed (1827), often ranked among the masterpieces of world literature.
Muti is well versed in conducting opera and Verdi in particular. While many requiem masses are dark, penetrating and highly religious in nature, Verdi's composition is more like opera than liturgy. I have enjoyed it from a variety of conductors and orchestras -- from Arturo Toscanini and the NBC, Carlo Maria Giulini and the Philharmonia, Robert Shaw and the Atlanta Symphony and Chorus through Herbert von Karajan and the La Scala Opera Orchestra. There is also a justly famous recording with Sir Georg Solti and the CSO that won several Grammy awards.
While all those are excellent performances, this Muti recording is the greatest yet. Muti is a very demanding conductor, and his knowledge of Verdi operas makes him an especially tough taskmaster. He expects every note to be played perfectly, and the orchestra, chorus and soloists do not disappoint. Adding to the performance's luster are the voices of the soloists. I have had no experience with Barbara Frittoli, Olga Borodina, Mario Zeffiri and Ildar Abdrazakov, but I will look for them on future recordings to be sure. The orchestra plays with acute precision, and the chorus is clearly at the top of its game as well.
Everything about this two-disc set is spectacular, including the recording itself. The width, depth and height of the soundstage are well accounted for. The soloists are realistically captured, and the position of the chorus in relation to the orchestra as well as where the soloists are placed comes through with a wonderful 3-D effect. Oh, and did I mention that this is a live recording? It imparts a you-are-there feeling.
In addition to the two-hybrid-SACD set, this Requiem is also available on CD and via digital download, all from the CSO's website. No matter the format, this is a must-own version of Verdi's masterpiece. Don't miss it.