Thelonious Monk • Underground
Columbia/ORG Music ORGM-2007
Single 180-gram LP
1968/2014

| | | | | | | |
| --- | --- | --- | --- | --- | --- | --- |
| Music | | | | | | |
| Sound | | | | | | |

by Guy Lemcoe | July 2, 2014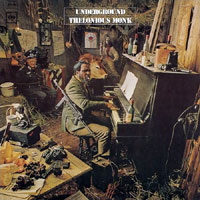 RG Music has released another gem from the past with Thelonious Monk's Underground, his next-to-last album for Columbia. With his classic '60s quartet, featuring eleven-year veteran Charlie Rouse on tenor sax, bassist Larry Gales, drummer Ben Riley and special guest vocalist John Hendricks, the album introduced an unprecedented four newly composed, previously unrecorded compositions -- no small selling point, given Monk's writing prowess. Even though overlooked when released in 1968, the album has gained stature over the years. The initial disregard was due in part to the bizarre, Grammy-winning John Berg cover art, which featured a photo depicting Monk as a French revolutionary seated at an upright piano with a machine gun draped over his shoulder in a shelter surrounded by various trappings of war. It needs to be seen to be believed.
Irrespective of the cover's shock value, Underground is quintessential Monk with all the rhythmic and harmonic surprises we've gotten used to in his music. Definitely an acquired taste, Monk's music displays his unique blend of lankiness, swing, joie de vivre and confidence on every cut -- he could make dissonance salient and exciting. Largely self-taught, Monk had truly innovative ideas about melody, odd harmonies, angular rhythms, and percussive phrasing. He also had an unorthodox playing style that stemmed from those who influenced him -- James P. Johnson, Fats Waller and Duke Ellington. To quote from the liner notes, "He has been committing thelonious assaults on certain hidebound enclaves of jazz since the mid-Forties. . . ." To quote from Monk himself, "I wanted to play my own chords." That he did.
Fifty years old when Underground was made, Monk still retained the passion, fire and unpredictability of his younger days. The album opens with a trio version of "Thelonious," a one-note outline of Monk's style. It is angular, repetitive and discordant. "Ugly Beauty," the only waltz among Monk's recorded compositions, follows. It features Rouse in a lyrical, contemplative mood rich in atmosphere. On the convoluted blues "Raise Four," the repetitious motif of the intro lets the walking bass of Larry Gales shine. This is followed by some fine Monk piano, where numerous bop influences abound. "Boo Boo's Birthday" is another quartet performance of the relatively melodic song (for Monk) laid down as a classic jam with loads of empathy between Rouse and Monk. My favorite cut on the album is the evergreen "Easy Street," the only non-Monk composition. In Monk's hands it gets deconstructed and then reconstructed with beautiful piano work encapsulating several piano styles in just a few bars. "Green Chimneys" presents another quirky phrase repeated over and over to great effect. It's a hard, four-to-the-bar rocker demonstrating the cohesiveness of the group. Finally, the classic Monk tune "In Walked Bud" features John Hendricks scatting along to the melody with improvised lyrics. He is not King Pleasure, and to me this is the weakest cut on the album.
Mastered by Bernie Grundman and pressed on dead-quiet vinyl at Pallas, the record looks and sounds great with a late-'60s stereo effect bordering on the holographic. It places the bass on the left, drums on the right with the sax in front and piano just right of center -- perfect for a nice, cozy session. I do not own nor have I heard an original pressing of this album, but I would be surprised if it sounds any better or has quieter surfaces than the reissue presented here. This album reproduces the original 1968 LP, retaining the cuts tendered at the hands of producer Teo Macero, resulting in five of the album's seven songs being cut by up to four minutes. It's a shame the unedited takes were not chosen. Nevertheless, the package is quite nice with accurate facsimiles of the original cover, liner notes and record label.
If you have any interest in Thelonious Monk or modern jazz, this album is not to be missed.