Thelonious Monk • Les Liaisons Dangereuses
Saga/Sam Records SRS-LE-1
Two 180-gram LPs
2017

| | | | | | | |
| --- | --- | --- | --- | --- | --- | --- |
| Music | | | | | | |
| Sound | | | | | | |

by John Crossett | June 2, 2017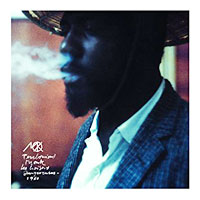 he year 1959 was especially bleak in what was an already tough professional life for Thelonious Monk. He was detained by police and charged with drug possession (falsely, as it turned out; Monk was a passenger in the car in which a small amount of drugs was found) and beaten badly enough to force a stay in a mental institution, causing the loss of his cabaret card, which meant he could no longer play in clubs that served alcohol. All of this came on the heels of a year when he was just starting to gain the public recognition he deserved, thanks to his stint at the Five Spot with John Coltrane.

Yet, during this long, dismal year, Monk still managed to record three very different albums: The Town Hall Concert, 5 By Monk By 5 and Alone In San Francisco. But there was one short, positive musical interlude that was almost completely forgotten: the musical score for the French film Les Liaisons Dangereuses. For 55 years, the tapes for this session, which remained in the possession of Marcel Romano, who requested that Monk do the soundtrack, languished -- until they were rediscovered and remastered for this 2017 Record Store Day release.

The music is made up almost completely of well-known Monk tunes, including "Rhythm-a-Ning," "Well, You Needn't," "Pannonica," "Crepuscule with Nellie," "Ba-Lue Bolivar Ba-Lues-Are," reprised for the film. Monk did write one new piece, "Light Blue," and this LP set contains what may be the only studio recording of it -- as well as Monk's version of the spiritual "By And By." Before the taping of this music at Tommy Nola's Penthouse Sound Studios on July 27th, 1959, Monk had no time (nor the capacity) to create new music just for the film, but one listen to the first of the two LPs in this set will tell you in no uncertain terms that this "reuse" of his music was unusual and special. The pace and tempo of each tune were pared down: slow enough to make the music not only fit the film's atmosphere, but to also make it feel as if you're hearing Monk write these tunes on the spot.

The sparseness also accentuates the musicianship: Monk on piano, Charlie Rouse and Barney Wilen on tenor sax, Sam Jones on bass and Art Taylor on drums. I've not thought much of the Nola Studios recordings, but the way Monk and his group were captured here was nigh on perfect: intimate, immediate, clear, deliberate, and realistic. It's easy to tell who's playing tenor, and not just because Rouse and Wilen play in different channels, but by the clear highlighting of both the tone of each player as well as his individual style. Jones's bass comes across as large, deep, clear and wooden, and you can hear the rattle of Taylor's snares every time he snaps his stick. But it's Monk's piano that gets star treatment here -- as it should. You get the sense of a large instrument and the feel of Monk's fingers running up and down the keyboard in his unique way, while still giving enough sense of space around the piano itself.

But the fun isn't confined to the first LP, which is the actual soundtrack. You get a second LP that contains alternate takes and a 14-minute track on the making of "Light Blue," in which you can hear Monk giving directions to the band as he tries to teach the tune on the spot as well as the numerous starts and stops until everyone plays to the leader's satisfaction. There is also a lovely booklet; at 48 pages long and the size of an LP, it is more like like a magazine, and it's full of articles, including one by Monk biographer Robin D.G. Kelley, on the people involved, the music and the film. Finally, there's a boatload of pictures taken at the recording session, including a few in color, rare for the time.

If it sounds like I'm gushing over this release, I am. It's peak-period Monk that went unheard for over 50 years, but it also displays the way Monk molded these older tunes, making them sound completely different, and that includes his Blue Note recordings, where many of these tunes debuted. Toss in sound that rivals (or surpasses) anything Monk received in the day, thanks to the beautiful, flat, silent 180-gram pressings, and you'll feel like you've hit the trifecta.

A CD release is coming later this month, and in the fall there will be a single-LP reissue, but neither will get you as close to the genesis of this music as this two-LP set. Cost be damned -- for Monk fans in particular and jazz fans in general, this set is a must-own.