Terry Adams • Talk Thelonious
Clang! CL-514
CD & two 180-gram LPs
2015

| | | | | | | |
| --- | --- | --- | --- | --- | --- | --- |
| Music | | | | | | |
| Sound | | | | | | |

by Guy Lemcoe | December 11, 2015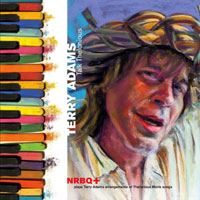 he music of Thelonious Monk has inspired many musicians to cover the engaging melodies in their own unique interpretations. Such efforts range from the Kronos Quartet's landmark recording Monk Suite to Police guitarist Andy Summers' release Green Chimneys to Carmen McRae's stunning Carmen Sings Monk.
Now, over four decades after Monk's death, Terry Adams takes on the music in a mostly live recording in front of an appreciative audience in Vermont. Adams, pianist/composer and founding member of the group NRBQ, pays homage to Monk and his patron Baroness Pannonica ("Nica") Koenigswater with this, his 18th album on his own Clang! label. It expands on what he and NRBQ contributed to Hal Wilner's That's the Way I Feel Now -- "Little Rootie Tootie" and "In Walked Bud" -- years earlier. Adams is joined on this session by three of his NRBQ regulars: Conrad Choucroun on drums, Scott Ligon on guitar and Pete Donnelly on bass. Other hand-picked players and friends round out the ensemble. If you're familiar with NRBQ's music, you know what to expect. If not, be prepared to enjoy a music-making romp as unpredictable, stimulating and fun as any you've heard.
"Reflections" opens the album and sets the mood with a noble pipe-organ introduction followed by piano, bass and drum. "Hornin' In" features two alto saxophones in a New Orleans-style shuffle beat free-for-all, sounding as if heard in a warped space -- toned-down John Zorn if you will -- with multi-instrumentalist Jim Hoke contributing a fine solo. "In Walked Bud," the classic Monk tune, receives a novel approach here. Scott Ligon's guitar and more of Hoke's alto sax are featured in a recording that captures the stage presence beautifully. The lovely ballad "Monk's Mood" features Adams' piano solo with Jim Hoke providing harmonica accompaniment. This unusual combination worked well and the ingenious addition of pedal steel guitar, courtesy of Jim Hoke, captures the slightly off-center theme perfectly. I really liked this tune. An ocarina (!) is featured on "That Old Man," a traditional children's tune immortalized by Monk on his self-titled 1964 Columbia album. It provides a whimsical interlude to the events and is the most relaxed performance on the album.
"Humph" is a frolicking, all-hands-on-deck stomper with Adams' piano sounding uncannily like Monk himself. The group really gets their good groove on here. "Think of One" is a typical Monk line infused with whimsy. Adams turns to the piano and Scott Ligon seats himself at the Hammond organ for this tune. The effect is as odd as the melody -- somewhere between a David Lynch film and a Cormac McCarthy novel. "Ugly Beauty" is actually a lovely tune and features Scott Ligon's guitar with Adams' accompanying piano. "Gallop's Gallop" is another dose of whimsy as the alto sax and piano tackle the disjointed melody before Jim Hoke's solo. Adams follows with his solo and the tune ends.
Anyone with jazz experience knows "Straight, No Chaser," but few have heard it like this -- conjuring images of a dusty saloon somewhere out west with a house band featuring a crazed pedal-steel guitarist and honky-tonk piano player. You can almost taste the dust in the air. The album's closer, "Ruby My Dear," is another Monk classic and the only studio track on the album. It's a lounge-music version of this classic complete with flutes, strings, tremolo guitar and harmonica. It recalls Ennio Morricone's spaghetti-western scores or Hugo Montenegro's covers of same. I liked this one -- a lot.
The spirited and lively music of NRBQ is accurately captured in crystalline digital sound as it weaves an oblique tapestry with Monk's music. There is rich presence -- the sense of air caught by the recording, making the hall's ambience palpable and sure to please audiophiles. Advancing the volume knob brings the musicians into the room.
I am fortunate to know Joe Schwab, owner of Euclid Records in St. Louis and New Orleans. Euclid has been around for over four decades selling quality new and used vinyl and maintains a strong Internet presence. In addition to running the two stores, Joe has taken on the task of releasing this album in a two-record, 180-gram edition mastered by Kevin Gray and impeccably pressed at Quality Record Pressings. It was released at the end of November, but Joe was gracious enough to send me early test pressings for sound comparisons with the CD. As soon as the stylus hit the grooves, I knew I was in for an exciting listening experience. Everything about the recording was enhanced, presenting listeners with even less between them and the music. The somewhat hygienic sound of the CD was replaced with a sound you wanted to embrace possessing a solidity that anchored each instrument to the stage, beautifully exemplified by the pipe organ on the first track. Even though the CD gave a highly detailed account of the event, the vinyl coaxed even more detail out of the mix.
I encourage everyone to support independent record labels, whose products are true labors of love. This album is a great place to begin. It's important music enthusiastically played. The joie de vivre of the performers was infectious and left me more than once with a big smile on my face.