Antonio Lysy • Te Amo, Argentina
Yarlung Records YAR95793-517V2
Single 180-gram LP
2009/2014
| | | | | | | |
| --- | --- | --- | --- | --- | --- | --- |
| Music | | | | | | |
| Sound | | | | | | |
by Guy Lemcoe | May 13, 2015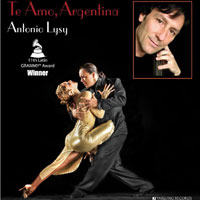 ounded less than ten years ago by Bob Attiyeh, Grammy-winning Yarlung Records takes its name from the Valley of the Kings in Central Tibet. There stands the Yambulakhang Castle, which serves as the company's logo. The label has over two dozen CDs and three LPs in its catalogue along with several downloadable titles in DSD format. Half-track 15ips tapes are available on special order. The repertoire includes orchestral, chamber, vocal and instrumental music, world music and percussion ensembles performing music from the 11th through the 21st centuries.
Originally released on CD as Antonio Lysy at the Broad: Music from Argentina, this recording, captured at the Broad Stage at Santa Monica College's Performing Arts Center, earned a Latin Grammy as well as audiophile recognition as being among the best-sounding recordings ever made. It presents solo cellist Lysy as a guide, escorting the listener on a tour of Argentina's folk music with support from pianist Bryan Pezzone, bassist Pablo Motta and The Capitol Ensemble (twin violins, viola and cello).
Substitute a cello for a bandoneón in the lead-off track, José Bragato's "Graciela y Buenos Aires," and you have a perfect rebirth of Astor Piazzolla's fiery nuevo tango. It's all here -- the passion, syncopated rhythms, broken mood swings and unusual harmonies. You are transported to the recording venue, where you can hear not only the rosin on the bow but the soloists' every breath. Marvelous! Next up, Alberto Ginastera's Puneña No. 2, op. 45, from 1976, is quite a switch both in mood and playing. It is an adventuresome tour de force for solo cello, which in places reminded me of Janos Starker's recording of Kodaly's Sonata for Cello, Op. 8. It tests the limits of the performer (and listener) and may take some getting used to. "Zamba," also by Ginastera, is a duo for piano and cello. It serves as a pleasant break from the earlier chaos.
Side two opens with Astor Piazzolla's "Milonga del ángel," an intoxicatingly lovely piece featuring Lysy's cello with Philip Levy on violin. Languid and sultry, it's Piazzolla through and through. Next is "Omaramor" for solo cello by Argentinian classical composer Osvaldo Golijov. The recording is the sonic equal of the legendary Mercury Living Presence recordings of Janos Starker's Bach cello suites -- liquid, woody, resonant and, when necessary, wiry. Veteran jazz and soundtrack composer Lalo Schfrin contributes the album's closer, the introspective, brooding, calming "Pampas" for cello and piano.
The LP I received was a perfectly flat, thick slab of flat-edged, 180-gram vinyl pressed at Pallas in Germany, so I knew it'd be quiet. The packaging was first class, with a beautiful color photo on the front and intelligent liner notes on back. The LP slides into a lined inner sleeve -- this is a quality product. But how does it sound? In a word, magnificent! Captured on AGFA 468 magnetic tape, this is a minimalist-miked, all-analog recording mastered by Bernie Grundman. It was a joy to hear music unshackled from such production artifacts as compression and limiting. High-end audio is defined by recordings such as this.
In the course of my research for this review, I was saddened to learn of the passing of close friend, listening buddy and fellow San Diegan Gustavo Hidalgo, who later became a friend and mentor to Bob Attiyeh. It's to Gustavo's memory that I dedicate this article.