Tchaikovsky • Symphonies Nos. 4, 5 & 6
Leningrad Philharmonic Orchestra; Eugene Mravinsky conducting
Deutsche Grammophon/Esoteric ESSG-90037/8
Two Hybrid Stereo SACDs
1960/2010
| | | | | | | |
| --- | --- | --- | --- | --- | --- | --- |
| Music | | | | | | |
| Sound | | | | | | |
by Richard S. Foster | January 2, 2011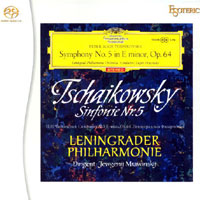 hile there are a multitude of recordings of Tchaikovsky symphonies, I hold these three performances in the very highest regard. When Eugene Mravinsky brought the Leningrad Philharmonic to the West in 1956, both conductor and orchestra were rather unknown commodities. This was the height of the Cold War, and, while a reputation preceded them, no one was quite sure what to expect. Mravinsky and his assistant, Kurt Sanderling, shared the conducting of the last three Tchaikovsky symphonies and recorded them in mono. Many prefer the mono recordings to these stereo remakes from four years later. Personally, I prefer the later versions. However, having the original Deutsche Grammophon LPs as well as the later CD reissues on the DGG Originals label, I find fault with the sound quality of both. The recordings are a little murky in the lower midrange and occasionally sound bright and edgy in the upper registers, which can bring on fatigue after a long listening session.
But this was the best they would ever sound, and I had to accept the sonic issues in order to enjoy the performances. Thus, I was totally unprepared for what Esoteric has wrought with this two-SACD set. Where there was murkiness, there is now see-through clarity that exposes more individual instrumentation than I'd ever experienced. What was bright has now been tamed.
If you ask me about the best performances of Tchaikovsky symphonies, I will say that there are a plethora to choose from. You can't go wrong with Monteux on RCA and Stokowski on Decca to name but two. Mravinsky holds a special place in my heart because his conducting is so different. All conductors interpret what the composer has written, but Mravinsky brings the music home in a way that no other conductor does. He exposes the orchestra to an openness that is unrivaled for these works. His finale for each is a stunning achievement in conducting outside the box, and he is a master of Russian repertoire. Mravinsky's style is on the order of Fritz Reiner's: he is in complete control -- a dictator when it comes to the performance.
Esoteric has done an outstanding job resurrecting these recordings, producing very good sound for its period, if slightly hard-edged in a way that suits the Leningrad Philharmonic well. And the recordings are in stereo. As with all Esoteric reissues, these won't be available forever. If this music is as vital to you as it is to me, don't procrastinate.