Various Artists • The Spirit of Turtle
Turtle Records TRSA75538
Hybrid SACD & Blu-ray Disc with 24-bit/192kHz files
2013
| | | | | | | |
| --- | --- | --- | --- | --- | --- | --- |
| Music | | | | | | |
| Sound | | | | | | |
by Marc Mickelson | October 29, 2014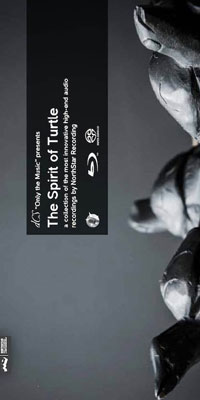 he Spirit of Turtle is a unique package. It's both a useful overview of a label's catalogue and a tool for serious listeners -- especially those of us who write about audio equipment. Given its configuration, it seems only appropriate that digital specialist dCS has underwritten it.
My first experience with the Turtle Records label came almost 15 years ago, when speaker maker Avalon used the label's purist recordings for sonic demo at CES. They sounded both immediately impressive and immediately different -- both in terms of the music and the sonic character, which was as airy and spacious as the hardware would allow. Dynamics and resolution of fine detail were equally impressive. I bought the three CDs I heard -- Carrefour's Romeo & Juliet [298123], Tois's Forbidden Fruit [398137] and Tony Overwater's Up Close [198119] -- and have listened to them many times since, often to perturb equipment I write about or discover just how imperturbable it truly is.
A cut from one of those recordings, "Teardrops for Jimmy," is here, along with a baker's dozen of others, both jazz and classical. Highlights abound, including rousing excerpts from Beethoven's Fifth Symphony and Gershwin's An American in Paris and some improvisation on a piano piece by Erik Satie. All are great fun and a system workout at the same time.
What's perhaps most significant about this package is that it collects multiple formats -- CD, SACD, Blu-ray and 24-bit/192kHz digital files of the same music, in both stereo and multichannel versions -- on its pair of discs, allowing for comparison across products that handle digital data differently. Want to compare SACD and Blu-ray playback? You can here, throwing in high-resolution FLAC files and the lowly CD into the mix for good measure. As our recent seminar at the Rocky Mountain Audio Fest demonstrated, the format plays second fiddle to the skill of the person doing the mastering. As the mastering here is presumably identical across the formats, the focus is directly on the playback hardware, making this set indispensable for equipment auditions.
It's also indispensable as an overview of the Turtle Records catalogue and may spur further exploration. But even if it doesn't, The Spirit of Turtle earns a place on any audiophile's demo-music shelf.