Frank Sinatra • Sinatra and Sextet: Live in Paris
Rhino/Mobile Fidelity MFSL 2-312
Double-LP set
1994/2009
| | | | | | | |
| --- | --- | --- | --- | --- | --- | --- |
| Music | | | | | | |
| Sound | | | | | | |
by Eric Hetherington | February 26, 2010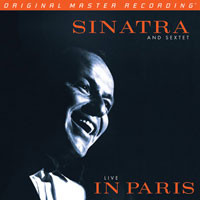 inatra and Sextet: Live in Paris documents Frank Sinatra's 25-song performance on June 7, 1962 -- just two days after he made his Paris debut. The recorders rolled, but the resulting tapes were ignored for over 30 years, finally released on CD in 1994. Sinatra's sextet was mostly of musicians with whom he had recorded previously. The band -- vibes, guitar, alto sax, drums, bass and piano -- plays a supportive role; there are occasional swinging moments and small glimpses of the improvisational abilities of the musicians, but the star is clearly Sinatra. While the cheer of the crowd suggests a large audience, the music is intimate and often romantic.
Just four years after recording in Paris, Sinatra would make another live recording, but this time in Las Vegas accompanied by the Count Basie Orchestra -- and released without a prolonged delay. Sinatra at the Sands provides a different listening experience than the earlier Paris concert. The cool, romantic sextet has been replaced by a jumpin' big band, and Sinatra is much more of a showman. While little changes over the four years in some of his pre-song banter (what precedes "One for My Baby" in each show is nearly identical), he seems to be working the room much more. "I've Got You Under My Skin" has a mid-tempo swing punctuated with blasts from the horn section, and the big-band accompaniment results in Sinatra's vocals seeming light-hearted. In Paris, the smaller band lets Sinatra's vocal performance take a more prominent role, and he seems more committed to the lyrics. The Paris concert is more personal and intimate, while the Vegas concert is, well, indicative of Vegas -- bombastic in parts, with Sinatra being cheeky and sounding more distant from the audience. Both concerts are highly enjoyable, even with little hiccups, as during Live in Paris's "They Can't Take that Away From Me," when Sinatra interrupts his own singing to complain about indigestion.
The performance isn't the only difference between the two live recordings; there is a distinct difference in sound quality as well. Live in Paris is more balanced -- instruments and voices sound tonally correct, with each sonic object, including handclaps, having a specific location in space. There is some wavering in Sinatra's location at times, but this seems a result of his walking around the stage more than any problem with the recording itself. Mobile Fidelity's vinyl is dead quiet. Sinatra at the Sands runs a little hot, the soundstage is a bit more congested, and the instruments are flatter. Live in Paris does a better job at providing real presence -- the sense that you are there -- while the Vegas show doesn't quite hit that realism.
The performances on Live in Paris contrast greatly with sophomoric, youth-oriented pop culture, and they are a fascinating contrast to the rock explosion that would happen just a year or two after they were recorded. What would Sinatra say about the popular-music landscape today, with its knuckleheaded boy bands and auto-tuned tarts? Surely, nothing kind. Luckily we can listen to Live in Paris and forget about them.