Sine Qua Non: Serge Gainsbourg Reimagined
Coup Perdu CPLP001
180-gram double-record set
2014

| | | | | | | |
| --- | --- | --- | --- | --- | --- | --- |
| Music | | | | | | |
| Sound | | | | | | |

by Roy Gregory | September 25, 2014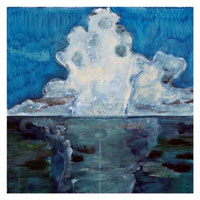 erge who? In the Anglophone world, Serge Gainsbourg is often at best an enigma and at worst a mystery. If people know the name it's more often than not through his notorious association with Jane Birkin, and the further you travel from France, the less likely it is that even that resonates.
But in his native country it is hard to overstate his central cultural importance. A multi-talented visual artist and director, he really hit home as a musician, writing over 500 songs, numerous film scores, recording 20 albums himself and writing 15 for other artists. His output embraced everything from jazz, chanson and Latin rhythms to rock, electronica, disco and reggae, while his tracks have been covered by singers as diverse as Jarvis Cocker, Belinda Carlisle, Arcade Fire, Kylie Minogue, Nick Cave, Michael Stipe, Marianne Faithful and Sly Dunbar and Robbie Shakespeare (who were also regular collaborators with Gainsbourg, producing two albums in the late '70s and early '80s).
But the one thing that his lyrics have in common, irrespective of musical genre, is a fascination with word play, puns and double (and not so double) entendre. With a penchant for radical politics, a propensity to shock and a comfort level with the sexually explicit that's entirely alien to the Anglo-Saxon moral majority. It's not surprising that he's cast in some quarters as a pantomime villain, which has led in turn to an overemphasis on various moans, grunts and quotations taken out of context. Yet in France he enjoys legendary status; his funeral brought Paris to a standstill, and his home has become a shrine.
In part that dichotomy rests on the fact that his very cleverness with language defies translation, the elegance of his wordplay lost, the English clumsy and lacking rhythm, sense and sensuality, allowing his detractors even more scope to dismiss him as crude and gauche. But in all this, the thing that really gets lost is his music, the simple elegance of his melodies, tunes with a timeless and quintessentially French quality that charms and beguiles with an easy grace that belies that enfant terrible cartoon characterization.
Which brings me to the second player in this tale of two cities. Glenn Armstrong is as English as Gainsbourg is French, but that hasn't prevented him from developing a fascination for things Francophile as well as a (possibly unhealthy) dedication to lost causes. I present in evidence -- if any were really needed -- the almost obsessive attention to form and function, detail and cultural deference embodied in his remarkable releases on Coup D'Archet and L'Archet D'Or, premium examples of musical archaeology pursued with the sole intent of bringing great music to a wider audience. Eschewing the extravagant pricing and claims made by so many audiophile re-release labels, Armstrong quietly produced beautifully presented discs of otherwise unavailable performances of genuine musical merit.
Well, after years trawling the archives of radio stations across Europe for tapes of live-broadcast gold, he has finally emerged from the musical coalface into the bright light of day with this, his first original recording -- and what more appropriate than a one-man crusade to restore the late, great Serge Gainsbourg's reputation in the hearts and minds of the English-speaking masses?
Of course, it's not quite as simple as that. Nothing chez Armstrong ever is. When he states that this is Serge Gainsbourg's music "re-imagined," he's not kidding, and in this case that re-imagination is through the medium of Gilad Atzmon's Orient House Ensemble jazz quartet, accompanied by string quartet and sundry other musicians (guitar, bandoneon and occasional additional brass), a group assembled specifically for the project. From a final cast of 13, players and instruments are drawn to suit each arrangement, from sparse solo explorations to full ensemble pieces -- hence the album's title, drawn, of course, from a Gainsbourg lyric. Then, just when you've gotten your head around this shifting tapestry, pressed across four flawless 180-gram LP sides, along comes the bonus album (Sine Qua Non Plus, free with the first 1000 copies only), another 180-gram disc featuring Leo Lara's guitar arrangements of 16 tracks, around half shared with the original double discs.
Given the sheer breadth of Gainsbourg's output, any loose collection like this is almost duty bound to defy classification. The arrangements give the album an unmistakably jazzy feel, but it won't be jazzy enough for some. It's more accessible than hard jazz, more reflective yet delicately demanding than pure pop. The tunes and playing pull you in and keep you there, the arrangements are varied enough to preserve the rhythmic and melodic surprises that hold attention, while the roundness of the whole rewards the effort. From the brilliantly evocative brevity of "Les Papillons Noirs" to the insistent tango of "Ces Petits Riens," the sumptuous arrangement of "Machins Choses" to the sudden urgency of "Contact," these are tracks as varied as they are engaging.
As a Gainsbourg aficionado, Armstrong has doubtless thought long and hard (actually, let's make that agonized) over the running order of these discs, but this is one area in which I'm going to differ with him. For those who know the material inside out, I don't question his choices, but I'd suggest you start with side 4, which serves up a couple of tunes with which you'll almost certainly be familiar as well as providing the stylistic gateposts that bracket the other music on the album. The bonus disc is necessarily sparser and more angular than the double-disc, the melodies less explicit and the variations more apparent, but that just gives you even more scope to lose yourself in the music -- and just when you think you're really getting the hang of this, the last track finally introduces an appropriately breathy female vocal, with perfectly chosen subject matter to match.
But what each and every track across both titles shares is the same warmth and intimacy, beautifully unforced detail and instrumental textures and tone. This is a recording as sweet and natural as a caress, of music with an almost innate, relaxed sensuality. The arrangements are deft and understated, uncluttered and elegant in their simplicity, allowing the beauty of Gainsbourg's clean melodic lines (and you) to bask in the warmth of the sound. The sessions were recorded at Abbey Road's Studio 2 (and the discs cut at Abbey Road too), with overdubs from separate sessions at Eastcote Studios, where the majority of Sine Qua Non Plus was also taped, with pressings from Optimal in Germany. Quality is exceptional on every count, the gorgeous sleeves (with original artwork from acclaimed British painter Peter Doig) and tasteful typography matching the poise and elegance of the performances and music, the silent pressings and superb transfers. You'll rarely hear reeds or strings reproduced with this delicacy, texture and immediacy, the chemistry within a small band captured with such effortless clarity. These are records that are just about as good as records get (the CD will be available shortly), all about the music and a world away from the sterile transparency and resolution über alles of typical audiophile recordings. Listening to them reminds me just why LPs occupied such a central role in my formative years, from the intimate and unashamedly romantic sound to the look and feel of those sleeves and inserts, compelling you to pore over them and absorb every last detail -- including the lyrics for the tracks recorded, en Francais, naturellement!
There are worthy causes and there are enterprises that are worth supporting, audio charity to reward and support laudable efforts. You should buy this recording to reward yourself and relieve your other burdens -- while also reminding yourself just what your audio system is for and what it can do on an emotional as well as a sonic level. A treat as surprising as it is entertaining and thought provoking, Serge Gainsbourg Reimagined will stretch your musical horizons as much as it cossets both you and your system. It's not often that such fabulous music and performances are so beautifully served by their recording.