Sarah Pierce • Bring It On
Little Bear Records LBR 1429
CD & one-off DVD-A
2011

| | | | | | | |
| --- | --- | --- | --- | --- | --- | --- |
| Music | | | | | | |
| Sound | | | | | | |

by John Crossett | January 27, 2012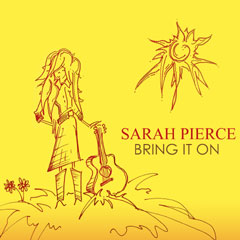 any new artists craft distinctive debut albums but fail to produce a sequel of similar or greater quality. Yet, every so often, we find a new, relatively unknown artist whose work shows obvious forward progress. Sarah Pierce, who mixes her country roots with folk, rock and pop, is one who has grown as a singer and a songwriter over the course of her recorded output. Bring It On, her latest album, demonstrates that with her growth she is no longer bound by genres. From the opening title number to the closing song, "May Peace Find You Tonight" (the only non-original here), each cut stands on its own, an outgrowth of the artist who wrote it and not a mere product of its influences. The more countryish "Twenty Dollar Silver Ring," the folksy "Baby Come Back," and the pop-influenced "You Make Me Love Being In Love" are high points, but there is one song here that, given proper attention, could vault Pierce to mainstream acclaim: "Butterfly Tattoo," a catchy, country/pop tune that is a demonstration of her all-around talent and has echoes of a young Emmylou Harris.
But Bring It On is more than just a strong album musically; it is an aural treat as well. The CD is excellent, but if you really want to hear what Sarah Pierce has crafted here, you need the one-off DVD-A burn produced directly from the original 24-bit/96kHz master. Suddenly what was a very good recording on CD becomes a demonstration-quality recording on DVD-A -- as well as proving that there is still life in this high-rez format. The increased resolution manifests itself most noticeably in the sense of space displayed both in the overall recording venue as well as around the individual musicians. The tone and texture of the abundance of acoustic instruments, such as banjo, Dobro, acoustic guitar, mandolin, drums, acoustic (and electric) bass among others, are startlingly realistic. In addition, both Pierce's lead vocals as well as those of her back-up singers take on a sense of three-dimensional presence and defined placement within the soundstage. You can close your eyes and the music will suspend disbelief for a brief period of time.
Far too often demo discs offer sound that is superb but music that can leave the listener cold. Not here. This is a disc you'll play over and over due to the strength of the songwriting, and when you want to show off your system, you'll stand a great chance of begin asked for Bring It On to play all the way through. Now let's see if Sarah Pierce and Little Bear Records can continue the high standards set here.