Santana • Abraxas
Columbia/Mobile Fidelity UD1S 2-001
45rpm two-LP set
1970/2016

| | | | | | | |
| --- | --- | --- | --- | --- | --- | --- |
| Music | | | | | | |
| Sound | | | | | | |

by Marc Mickelson | November 24, 2016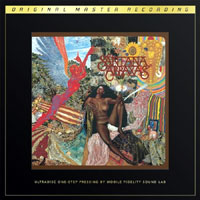 rom the very beginning, Mobile Fidelity LPs were meant to be special. They were created from the master tapes at half speed and carefully pressed on quiet vinyl. None of this stopped Mobile Fidelity from pushing its process even further toward sonic purity, at first producing a small number of even higher-quality LPs in its Ultra High Quality Record (UHQR) series and then moving on to cutting at 45rpm.

So in a very real sense, Mobile Fidelity's new One-Step process, announced at CES and first used for this version of Santana's Abraxas, is a logical step forward in the label's evolution. The standard process of pressing records hasn't changed much in the past 70 years: the musical signal is cut into lacquered discs, which, through the plating process, become the mother and father, then positives, and finally the stampers from which the records are pressed. Each step is essentially a copy of what came before, with the degradation that comes from copying a copy only reducing resolution. With One-Step, the lacquers, cut at 45rpm, are used to create what Mobile Fidelity calls "converts," which are formed into the stampers from which the records are pressed. This eliminates two processes and two sets of metal parts. The advantage is obvious: the stampers are much closer to the original source. Because stampers wear out and can have defects or become damaged, each One-Step pressing run is extremely limited. Mobile Fidelity will announce a number of copies for each title, 2500 for Abraxas, but that will be determined by the condition of the stampers and not be fixed.

Abraxas, Santana's second album, is an evergreen, a classic and a fitting beginning to the One-Step series. Owners of other versions will buy it again if the sound warrants it. I had Mobile Fidelity's earlier reissue [MFSL 1-305] and an early Columbia pressing [KC 30130] for comparison, and the differences were not at all subtle and were completely in One-Step's favor. Instrumental lines are better delineated and easier to follow. There's greater air, and -- surprising for vinyl -- wider dynamic range, mostly due to better capturing of low-level detail. There's more of the music as it was recorded, its nuance, power and atmosphere, which makes losing yourself in it that much easier. Audiophiles will spend many thousands of dollars on equipment to achieve less improvement, which makes the $100 cost of each One-Step release seem reasonable.

Outwardly, MoFi's decades-old UHQR LPs are the obvious comparison for the One-Step releases. They were both pressed on heavy vinyl and housed in sturdy boxes along with supporting materials. But the UHQRs were single 33rpm discs, as opposed to the two 45rpm One-Step LPs. When the UHQRs first appeared in the early 1980s, some listeners still preferred commonly available pressings. Harry Pearson at The Abso!ute Sound was particularly skeptical. I will be surprised if opinion of these latest deluxe MoFi LPs isn't universally positive and profuse.

One-Step is a true advancement in the creation of vinyl LPs. Next up is the Bill Evans classic Sunday at the Village Vanguard, and if Abraxas is any indication, it will instantly become the copy to own.