Saint-SaŽns • Symphony No. 3 in C minor, op. 78 "Organ"
Kansas City Symphony, Michael Stern conducting
Reference Recordings RM-1514
180-gram 45rpm LP
2016

| | | | | | | |
| --- | --- | --- | --- | --- | --- | --- |
| Music | | | | | | |
| Sound | | | | | | |

by Tim Aucremann | March 16, 2017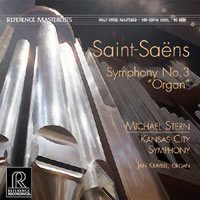 eference Recordings (RR) has catered to vinyl-playing audiophiles since the mid-1970s, and label CEO Tam Henderson has a solid grasp of what his finicky audience wants: recordings of acoustic music performed in actual concert spaces captured in holographic sound with a genuine sense of presence. And realistic bass, don't forget the bass. That is exactly what RR achieves from their fifth collaboration with the Kansas City Symphony, offering Camille Saint-SaŽns' Symphony No. 3 in C minor, opus 78, otherwise known as Saint-SaŽns' "Organ" symphony. Though technically divided into the traditional four movements, it is actually a two-movement symphony, and each conveniently fits on one side of the album.

As an ardent romantic at the end of the 19th century, Saint-SaŽns instilled passion within his Third Symphony, reflected not in musical soul-searching or fervent nationalism -- he rarely chose expression over form -- but instead in tidy elegant lines, harmonious colors and beautiful successions of chords. Michael Stern's interpretation is brilliant; his subtle use of tempo and phrasing build sweeping drama that rises, briefly breaks open to light as tension releases, then starts all over again. Saint-SaŽns takes a cyclical approach to his themes, reusing them across each movement. The music doesn't really go anywhere, though you have a glorious good time getting there. Neither is the symphony deep or intellectually probing, but its music rewards both easy listening and close inspection as repeated plays uncover variations on Saint-SaŽns' own melodies that reveal an innovative sophistication.

With the inclusion of both organ and four-handed piano, the composer's orchestration is innovative, though neither instrument gets a significant role to play. The four-handed piano part is charming but takes a mere eight bars. Listeners must wait for the last half of each movement to hear the organ where it appears sparingly. Nonetheless, its entrance in the second movement is resplendently bold. The organ part largely offers low-frequency chords and pedal notes in a supporting role, sometimes going down to a felt-as-much-as-heard 32Hz. In spots, the organ doubles woodwinds, strings and brass, bringing a delicious richness to the overall sound. Unlike recordings where an organ's entrance can overwhelm an orchestra, here the balance nicely reflects what you'd experience in Kansas City's Helzberg Hall.

Reference Recordings offering this symphony as a half-speed mastered 45rpm LP really pays off. This approach gives the cutting head twice the amount of time to carve a plentifully wide groove for low notes while enabling smooth, detailed high frequencies. Consequently, sonics couple superb low-frequency weight and articulation with an exquisite depth of tonality, all within an envelope of acoustic presence, delivering a delightful concert-like experience. Just listen to the clear and obvious distinctions between the voices of oboe and cor anglais or the tightly plucked basses to appreciate the quality of this recording. As a release in RR's Reference Mastercuts series, this album offers a 30-second silent groove at the end of each side, allowing time to lift the tonearm.

Kudos goes to the Kansas City Symphony, conductor Michael Stern, the Reference Recordings team (Tam Henderson, Keith Johnson and Paul Stubblebine), as well as to the folks at Quality Record Pressings, where the LP was pressed, for this archetype of a modern vinyl record. Several fine recordings of this work are available, but this one has moved to the top of my list.