Robert Ellis • The Lights from the Chemical Plant
New West Records NW6266
CD
2014
| | | | | | | |
| --- | --- | --- | --- | --- | --- | --- |
| Music | | | | | | |
| Sound | | | | | | |
by Vance Hiner | April 18, 2014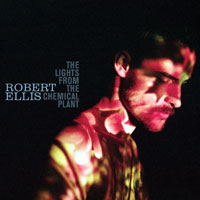 t only 25, Robert Ellis clearly owes a lot to the many Texas troubadours who came before him, from Ernest Tubb to Joe Ely to Townes Van Zandt. In spite of those influences, he has managed to form his own distinctive style. His voice is a combination of classic "high lonesome" tenor with the cosmic cowboy twang of Jimmie Dale Gilmore. The first track on his latest album is rich with smooth pedal-steel riffs and tub-thumping bass lines. But when he sings on "TV Song," "Oh, Betty Draper, I wish my wife were less like you. It gets so hard to take her, she complains the whole day through," you know you're in for an interesting ride.
Other songs, like the title track, bring Jimmy Webb to mind. I thought of Glen Campbell's rendition of "Galveston" several times while listening and maybe that's Ellis's Texas background peeking through the Nashville sensibility of this disc. Like Webb, Ellis tells stories that unfold cinematically. During "Houston," you can almost see an overhead tracking shot as Ellis drives an old convertible down a southern interstate near the Gulf, tower lights blinking in the dusky light.
Producer Jacquire King stirs up an interesting mix of elegance and grit. It makes sense, given King's fine work with artists as diverse as Tom Waits, Modest Mouse, Norah Jones and Dawes. King has slightly colorized the sound on this disc to fit the mood. So, those with a penchant for perfectly natural instrumental presentation should look elsewhere. However, if you like the lush sounds of recordings like Willie Nelson's You Don't Know Me, most of the cuts on this disc should appeal to you.
Throw Ellis's songs on the CMT top twenty and people will be asking, "Who is that guy?" He's not the usual flannel-shirted beefcake shouting an anthem from the top of a pickup truck. In fact, Ellis's reedy voice and penchant for phrases like "a bottle of wine and a bag of cocaine" will probably keep him off the main stage at the Country Music Awards. But this young man is a serious songwriter, and his music often transcends traditional labels. I suspect the more people who are exposed to these wonderful songs, the more likely we'll be hearing others praise the mysterious southern sound of Robert Ellis.