REM • Lifes Rich Pageant
IRS/Mobile Fidelity MFSL 1-361
180-gram LP
1986/2011
| | | | | | | |
| --- | --- | --- | --- | --- | --- | --- |
| Music | | | | | | |
| Sound | | | | | | |
by Marc Mickelson | February 6, 2012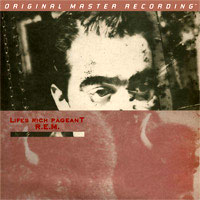 ith its fourth full-length album, REM reached an enigmatic high point. Lifes Rich Pageant is a collection that compels while confounding -- a collage of images and ideas that seem at once disparate and then connected in a peculiar, abstract way. How do "Feathers hit the ground before the weight can leave the air"? What exactly is "Myles Standish proud"? And why is the apostrophe missing from the album's title? There is the quality of a Kandinsky painting or a John Ashbery poem here, an oblique yet luminous beauty that illustrates the notion that disorder is simply an unfamiliar kind of order.
This is not to say that Lifes Rich Pageant is an exercise in deliberate murkiness. Michael Stipe's growing influence on the band was evident in the more socially aware songs here. But no one will accuse Stipe of writing easy lyrics, even as the melodies display pop sensibilities. It seems oddly appropriate that the nearest thing to a hit on the album, "Superman," is a cover. It's the song that doesn't belong, which on this album makes it belong all the more.
Original IRS pressings of Lifes Rich Pageant are not hard to find for a few dollars, making this reissue seem curious -- until you hear it. The difference in volume between old and new is immediately apparent, the original LP sounding much louder. Its compression and resulting lack of dynamic shading are obvious. The reissue is far more nuanced and layered, the jangly guitars and cryptic vocals sounding better delineated and more intelligible. The surfaces are much quieter as well, the 180-gram MoFi LP possessing an eerie, digital-like absence of noise.
Mobile Fidelity reissued REM's first two albums, Murmur and Reckoning, in the mid-1990s, years before Music Direct became involved with the label. They've remained two of the more sought-after titles, probably because of the added clarity they bring to this decidedly cloudy music. The same holds true for Lifes Rich Pageant. While REM's Document is in MoFi's queue for later in the year, I would love to see re-reissues of Murmur and Reckoning -- on LP and hybrid SACD, please!