Rahsaan Roland Kirk • Bright Moments
Atlantic/Pure Pleasure SD 1375
Two 180-gram LPs
1973/2017

| | | | | | | |
| --- | --- | --- | --- | --- | --- | --- |
| Music | | | | | | |
| Sound | | | | | | |

by John Crossett | July 21, 2017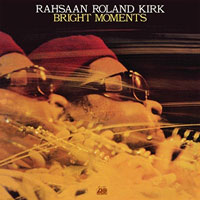 ahsaan Roland Kirk's arrival on the jazz scene was initially met with about the same enthusiasm as that given to Ornette Coleman -- in other words, not much. Many saw his playing of multiple instruments as nothing more than a novelty act. But, much like Coleman, when people began to really listen to Kirk, both how he played and melded all aspects of jazz history into the extraordinary music he created, it soon became apparent that he was far, far more than a novelty. He was the genuine article through and through, and all of the barriers that had been placed in front of him soon disappeared. After a short stint with Charles Mingus (no stranger himself to the prejudices of the jazz public), Kirk began to lead his own groups and record under his own name. Oh, did he record -- all the way until his passing in 1977 (albums continued to be released until 2006). Few modern jazz artists were as prolific as he was, or as well received. What makes all of this even more remarkable was that Kirk was blind since the age of two. Despite this obstacle, he learned to play a multitude of instruments as well as modify some of those instruments so that he could play them simultaneously.
Bright Moments was recorded in 1973 and is considered Kirk's best album of the 1970s. Recorded live, which allows us to hear how Kirk interacted with his audience, hear his humor, his knowledge, and his passion, Bright Moments also gives a brilliant overview of how Kirk could pull ideas from the entirety of jazz history and create significant new music. "If I Love You" hints at avant-garde, while holding fast to its melodic tone, or "Pedal Up," which shows off his playing of three instruments -- tenor, manzello and stritch saxes -- at once. But this album isn't just full of Kirk's own compositions, wonderful as those are, but also contains numbers by Duke Ellington, Fats Waller, Burt Bacharach, and Rogers and Hammerstein. It's interesting to hear Kirk's inventiveness on his own compositions and the care he gives the work of others, staying faithful to the originals while still marking the music as his own. In this regard, Kirk was much like Thelonious Monk, another genuine original who respected the contributions of others when he played their compositions.
Sonically, Bright Moments gives you the feel of being in the audience listening to this live performance. There are at least one moment on each of the four sides of this double LP where we get to hear Kirk interacting with the audience, and those moments give us an up-close-and-personal glimpse of just who Rahsaan Roland Kirk was. The sounds of the multiple instruments he plays here -- though usually only one at a time -- come across as realistic. There is a good sense of space and recording acoustic. The band also gets good treatment too. The bass is deep and woody, if not the last word in definition. The drums have snap, crackle and pop, and the piano is well defined.
If you've never given Rahsaan Roland Kirk a listen, there are few better albums to start with than this flat and dead-quiet reissue pressed at Pallas. Once you've given this album a good listen, I predict that you'll begin searching out more music from Kirk, and that's about the best compliment I can offer.