Dallas Wind Symphony with the Jim Cullum Jazz Band • Playing With Fire
Jerry Junkin conducting
Reference Recordings RR127
CD
2012
| | | | | | | |
| --- | --- | --- | --- | --- | --- | --- |
| Music | | | | | | |
| Sound | | | | | | |
by John Crossett | April 17, 2013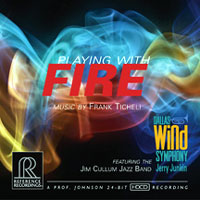 he music captured on this CD is entirely the work of composer/arranger Frank Ticheli, and fully two-thirds of it was written specifically for the Dallas Wind Symphony, here under the baton of Jerry Junkin. It is a diverse collection of music that seems to have been written as much for the sheer enjoyment of the listener as to show off the exceptional range a wind band can have in its repertoire. From the powerful to the delicate, the music highlights what these 19 instruments and 51 musicians can achieve.
The CD begins with "Postcards," written on commission in memory of conductor H. Robert Reynolds' mother, progresses to the two-part "San Antonio Dances" and from there to Ticheli's own Symphony No.2, but it is the final third of this CD that really captured my attention. This is the title cut, on which the Dallas Wind Symphony plays in tandem with the Jim Cullum Jazz Band. The melding of classical music and jazz has been attempted many times in the past with varying results, usually less than successful. Here, however, the combination succeeds. Perhaps the style of jazz being played -- Dixieland for the most part -- helps the cause. The music bounces and flows -- it's Gershwin with a beat and one of the finest mergings of classical and jazz I've heard. The Dallas Wind Symphony and Cullum Jazz Band blend the two styles seamlessly, both ensembles creating one voice and a unique experience that has me hoping Ticheli, Junkin and Cullum collaborate again and again.
Recording a large wind symphony would seem to be a much more difficult proposition than recording a symphony orchestra. When playing full tilt, the group can display massive power, yet it can also surprise with delicacy from the individual instruments, so the recording engineer has his work cut out for him. Fortunately for both Reference Recordings and us, the engineer here was Keith Johnson, who has a wealth of experience recording the full measure of musical expression. Johnson captures the small identifying touches -- the air being blown past a reed or into a mouthpiece -- with a clarity that you cannot ignore, yet the the massed power of the Dallas Wind Symphony is astoundingly realistic. When the Cullum Jazz Band is added to the mix, the results don't change one iota. From the brass to the bass to the drums, the jazz band sounds as realistic as I've heard.
It's a fine balancing act that the recording achieves. Each instrument has its own unique voice while blending together in a way that makes listening to this disc a true audiophile thrill. This HDCD is a world-class effort well worth seeking out.