Paul Kelly • Life is Fine
EMI Australia/Cooking Vinyl GAWD 026LP
180-gram LP
2017

| | | | | | | |
| --- | --- | --- | --- | --- | --- | --- |
| Music | | | | | | |
| Sound | | | | | | |

by Vance Hiner | September 27, 2017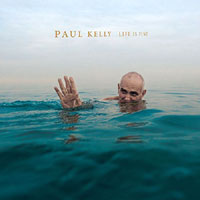 aul Kelly is an Australian folk hero who comes off like a working-class Leonard Cohen or a rock-'n'-roll Woody Guthrie. Up-and-coming indie musicians like Courtney Barnett routinely put Kelly's reedy voice and natural storytelling at the top of their "most influential" lists. Kelly's dedication to working for the rights of Australia's indigenous peoples and a variety of charitable causes along with his incredible songwriting talent just earned him the Order of Australia, that country's version of knighthood.

On his way to becoming an icon, Kelly led a rowdy, messy life, and he has come out on the other side a humbler, kinder and wiser man. Getting glimpses of those real-life experiences is one of the things that makes the songs on Life is Fine, Kelly's twenty-third studio effort, so compelling, even if it doesn't quite reach the benchmark set by his 2003 masterpiece Ways and Means. Much of the material here is about falling in and out of love, themes that can be either hopelessly trite or painfully precious in the hands of lesser artists. Instead, Kelly's simple honesty evokes all the emotions that go along with romance's bumpy ride. Side A begins with a set of punchy tunes that conjure up the rapture of relationships. When Kelly sings on the second track, "You're a long cool glass of water on a blazing summer day / You're autumn trees undressing in the month of May," (in the land down under, May is actually part of the Fall season), his longtime backing band surrounds the lines with a rollicking, power-pop sound that recalls the exhilarating thrill of a new relationship.

As the album progresses, Kelly steps aside for backup singers, sisters Vika and Linda Bull, to perform songs he has written for the female perspective. The Tom Waits grit of "My Man's Gotta Cold" and the Lucinda Williams sadness of "Don't Explain" are so much fun that I have to hope Kelly decides to pen an entire album of numbers for these talented women. The rest of Kelly's band are studio aces. Drummer Peter Luscombe's tom-tom work reminds me of Jim Keltner's propulsive beats, and Ashley Naylor's tasty guitar lines are reminiscent of the just-right touch of Greg Leisz. The sound of these sessions reflects the material; there's nothing fussy or overly polished about the production, and the result is a warm, relaxed feel. Instrumental separation is good, and the soundstage is big in all directions.

To top everything off, the quality of the pressing is significantly better than that of a number of new records I've heard lately. While the source was a 24-bit/48kHz digital file, the vinyl is rich with information and acceptably quiet. It was pressed at GZ Media in the Czech Republic, and while this company has a storied reputation, given that it's one of the world's largest vinyl-pressing plants, this release may indicate that its recent purchase of brand-new presses is beginning to produce dividends.