Patricia Barber • A Distortion of Love
Antilles/Mobile Fidelity UDCD-2100
Hybrid SACD
1992/2014
| | | | | | | |
| --- | --- | --- | --- | --- | --- | --- |
| Music | | | | | | |
| Sound | | | | | | |
by John Crossett | August 20, 2014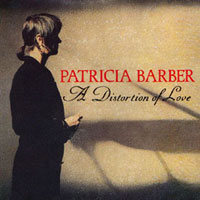 azz pianist and singer Patricia Barber has been an audiophile favorite since her initial album on the Premonition label, Café Blue, hit the racks. That album, and those that followed on Premonition, brought Barber to prominence for both her music and the albums' lavishly detailed and atmospheric sound.
But how many people know that those albums were not her first? That distinction goes to the 1992 debut A Distortion of Love released on the Verve/Antilles label -- and now re-released on SACD by Mobile Fidelity, joining her earlier albums in the MoFi catalogue. With this release we get to hear Barber as she was developing both her music and musical style. What really makes A Distortion of Love so interesting is how close to fully formed things were on her debut album, honed over the years by countless live shows in her native Chicago. Of the ten songs on this album, Barber wrote half. The others are a mix of standards and pop songs. While I find these early originals delightful and fully the equal of any of her later writings, it is the way she handles the covers that caught my attention. Take the standard "Summertime" and the pop song "My Girl," for example. On "Summertime" Barber uses her now-trademark vocal languidity to stretch out words and syllables and take this chestnut to new musical places. On "My Girl," while singing the song mostly straight (okay, as straight as she can), she still manages to bend it enough to create a fresh take on this pop classic, initially by allowing bassist Marc Johnson to set the stage for the song with an opening solo that one just doesn't hear often in popular music.
As is the case with Mobile Fidelity's previous reissues of Patricia Barber's Premonition albums, the sound here is about as good as it gets. It comes very close to the sonic virtues of the later albums, due in no small part to having engineer Jim Anderson -- who was there for all of the Premonition albums -- behind the console here too. Anderson has a great set of ears and seems to have a simpatico relationship with Barber. The sound has clarity and naturalness that enhance the ability to fully understand what Barber is trying to accomplish. Her piano has percussiveness, crispness and scale that allow you to suspend disbelief and feel like you are in the presence of the real thing. The acoustic bass is large, full and appropriately woody. The electric guitar slashes its way through any part it's asked to play. Drums are crisp and sharp. But it's Barber's vocals that really stand out as three-dimensional.
About the only difference between this SACD and the later albums is the sense of space, which is truly amazing on Café Blue and Modern Cool in particular. But that aside, Barber's debut offers a glimpse of a rising star at the beginning of her career, all in high-rez sound.