Oscar Peterson • Exclusively For My Friends
MPS 0209478MSW
Six 180-gram 33rpm LPs
1963-1968/2014
| | | | | | | |
| --- | --- | --- | --- | --- | --- | --- |
| Music | | | | | | |
| Sound | | | | | | |
by Marc Mickelson | December 16, 2014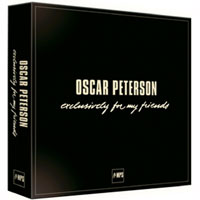 scar Peterson was one of the true giants of jazz piano, a position he solidified during a long affiliation with Verve Records, for which he made over fifty recordings from the early 1950s into the 1970s. Ironically, it was his contractual obligation to Verve that gave these recordings for the German Musik Produktion Schwarzwald (MPS) label much of their personality. Verve wouldn't allow Peterson to be recorded by another label in the studio or in concert, but a less formal venue was fair game. Sensing an opportunity, recording engineer and MPS founder Hans Georg Brunner-Schwer, a close friend of Peterson, turned his own living room into a recording space, and over the course of six years Peterson and his trio produced five recordings for a small audience of friends, hence the series' title, with a sixth record coming from a solo outing in the same venue.
Brunner-Schwer clearly knew what he was doing. The span of time during which the recordings were made accounts for any small sonic variations between sessions, but there remains an overall naturalness that I find particularly appealing, given the intimate soundscape. The instruments are well focused and the textures are liquid. When Peterson really pounds the piano, the instrument's dynamic range and lower-register power are evident. In short, it all works. In some ways, these LPs can be considered early audiophile recordings.
I am not an unwavering fan of Peterson's playing. For me, he relied too much on his dazzling technique, tiring ears more in tune with the space between the notes -- and he surely played a lot of notes. But these recordings are among his best, and I surmise that's because he was in the company of colleagues who were sympathetic -- Ray Brown on bass and Ed Thigpen on drums, or Sam Jones on bass and either Louis Hayes or Bobby Durham on drums -- and friends whose expectations were simply to be entertained. Peterson is as relaxed as those hearing him in Brunner-Schwer's living room, and this vibe makes for music that's both loose and swings hard. While five of the six LPs are trio performances, one is Peterson playing alone, and for me this is the least successful of the set. He is more of a running back than a ballet dancer, so being part of a team is imperative. His solo playing borders on noodling in spots, crying out for accompaniment.
Even though vinyl's resurgence in the market continues, it does so with the majority of new releases coming from digital sources. Only the audiophile labels -- Music Matters, Analogue Productions, Mobile Fidelity, Pure Pleasure, Speakers Corner -- reliably use the analog master tapes as the source for each LP. For this release, MPS has done the same, including pictures of the master tapes within the booklet that comes with the set, just to make this point. Another trick of the audiophile labels is including session photos in the center of gatefold sleeves, and this is also done here. As a further nod to the all-analog remastering chain, MPS is also releasing each Exclusively for My Friends volume on 15ips reel-to-reel tapes, one album side per tape.
The 180-gram pressings, done at Optimal Media in Germany, are slightly noisier than the ones coming from QRP, RTI or Pallas, but they are still very good. I have original pressings of two volumes and all six of the hybrid SACDs that were released in 2003, and while they sound very good, these records convey more of the delicacy and radiance that define the recordings, while increasing the venue's sense of intimacy. You may need to lean on the volume more than usual, but you'll rewarded with in-the-room presence.
If you're used to Bill Evans' or Keith Jarrett's pensive, lyrical improvising, some of Peterson's sprints up and down the keyboard and general fidgetiness will be of questionable musical value. But there are many moments of resplendent beauty and astonishing dexterity here, all captured in sound that is state of the art for its time. If you already own the high points of Oscar Peterson's Verve output -- West Side Story, Night Train, Very Tall, and We Get Requests among them -- these recordings will still provide new insights and deepen your admiration for him.