Nordgren • Concerto for Clarinet, Symphony No.1
Finnish Radio Symphony Orchestra, Juha Kangas conducting; soloists: Christoffer Sundqvist, clarinet; Anna-Karin Korhonen, kantele; Ilkka Heinonen, jouhikko; Markku Lepistö, kaksirivinen haitari
Alba Records ABCD 359
Hybrid SACD
2014

| | | | | | | |
| --- | --- | --- | --- | --- | --- | --- |
| Music | | | | | | |
| Sound | | | | | | |
by Richard Freed | September 4, 2014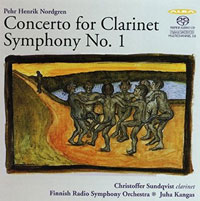 ehr Henrik Nordgren, who lived from 1944 to 2008, was pretty much a loner, even by the standards many of us assume to prevail among the Finns. As his younger colleague and compatriot Jouni Kaipainen (born 1956 and still very much with us) points out in his annotation for this very attractive release, Nordgren even "acquired a reputation for being a bit odd." Instead of matriculating at the Sibelius Academy in Helsinki, he went to the University of Helsinki and studied privately with the revered Joonas Kokkonen (1921-1996), who was regarded as the dean of Finnish composers in the post-Sibelius era. Nordgren embraced folk music, to a degree beyond what most of his colleagues even dreamed of. He went off to Japan in 1970, and stayed there for three years -- and when he came back to Finland he chose for his home not Helsinki or any other major city, but the little town of Kaustinen, where he enjoyed his position as Provincial Artist (and which became the site of an internationally known festival of folk music).
Other influences on Nordgren's creative approach identified by Kaipainen were the Russian master Shostakovich and the Hungarian György Ligeti. "The main thing," according to Kaipainen, "is that Ligeti, Shostakovich, Japan and Finnish folk music are so remote from one another that placing them in one and the same context requires a markedly pluralistic attitude." In any event, both of the works on the new CD -- which may just possibly be the single most compelling release so far from this adventurous Finnish label -- are early ones, and neither has been recorded before.
The Clarinet Concerto was composed in 1970, the year in which the 26-year-old Nordgren went to Japan, and with that in mind we might judge that he was reassuring his listeners -- and himself -- of his "Finnishness." The work includes not only folk tunes, but folk instruments as well: specifically, the zither-like kantele, the jouhikko (a bowed harp), and the kaksirivinen haitari (a two-row accordion). More remarkable than these instruments, though (which really don't jump out from the orchestral texture as much as one might expect), is the unself-conscious directness of the splendidly crafted, embracing music. It has a logic of its own, and does not wear out its welcome as it might have done if the "novelty" of the folk instruments had been more pointedly emphasized. The soloist in this performance, Christoffer Sundqvist, seems to relish the challenges and opportunities of the work; he seems, in fact, to have made it his own to such a degree that he simply lives and breathes it and more or less defies anybody with working ears to resist it.
The First Symphony, composed a year or so after Nordgren's return from his three years in Japan, is a more expansive and somewhat more "serious" work. Its three movements -- an opening March, a very substantial middle movement labeled Concerto grosso, and a finale called Epilogues (note that plural form) -- add up to what might be called an outright manifesto of a specifically Finnish composer committed to glorifying his country's musical roots. Heard in the altogether remarkable middle movement is what Kaipainen characterizes as "a folk-fiddle melody with a simply backbeat accompaniment -- the very tune that, under the name Pelimannin elämänkappale (The Fiddler's Favourite Tune)," was to reappear two years later in Nordgren's Portraits of Country Fiddlers.
The splendid Finnish Radio Symphony Orchestra is conducted here by Juha Kangas, whose name is familiar to discophiles from the numerous recordings he made for various labels with the Ostrobothnian Chamber Orchestra, which he founded in 1972 and conducted well into the present century. Kangas himself grew up in the Kaustinen region, and has the advantage of relating instinctively to the folk traditions that Nordgren found so stimulating. With his Ostrobothnian troops, in fact, he has recorded two collections of "folk into classic" pieces, one on Ondine and a second one, with some duplications of the first, on Alba. (Neither is made up entirely of Finnish music.) The former [ODE 766-2] includes Nordgren's aforementioned Portraits of Country Fiddlers, and the Alba (on SACD [ABCD 330]) includes Nordgren's much later Pictures of a Rural Past.
But the new Nordgren release is something way beyond the scope of the miniatures in those collections, charming though they are. This is an altogether enjoyable and enriching listening experience, and an edifying one as well, thanks to Kaipainen's ingratiating yet purposeful and solidly informative annotation. His admiration for Nordgren, in spite of their very contrasting styles and allegiances, is abundantly clear. Kaipainen admires Nordgren, not for any similarity in their respective outlooks, but for his independence, which itself is perhaps the most unifying trait among Finnish composers, from Sibelius's time to our own. The recording is particularly realistic and well balanced, and, like the performances, suits this music down to the ground.