Nina Simone • Little Girl Blue
Bethlehem LP BCP-6028
Single 180-gram LP
1958/2013
| | | | | | | |
| --- | --- | --- | --- | --- | --- | --- |
| Music | | | | | | |
| Sound | | | | | | |
by John Crossett | April 29, 2014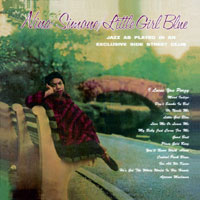 ina Simone was born Eunice Kathleen Waymon in Tyron, North Carolina, her stage name a combination of the pet name her boyfriend used and the first name of her favorite French film star (Simone Signoret). Even as a child she demonstrated prodigious musical talent, playing piano at her mother's church. A neighbor provided piano lessons (mostly classical), and as a teen she received a grant to study at Julliard in New York. It's not hard to believe that such a talented youngster would eventually find her way as a professional musician. What is hard to believe is that Little Girl Blue was Nina Simone's debut album. All of the material was arranged by Simone herself, and she also played all of the piano parts. Her trio here included Jimmy Bond on bass and Al Heath on drums.
Simone had a deeper-than-usual voice for a female singer; I've even heard it described as husky. Despite that, she possessed a smoothness and suppleness, and there were few notes she couldn't reach. Her vocal intonation made each song feel like she was improvising on the spot, and being the arranger and the pianist allowed her to tailor each song to her strengths. Listen to the opening of "Mood Indigo" for an example of how she could sound like a Baptist preacher (a reminder of her roots, perhaps?); then listen to "He Needs Me" for the way she could switch her vocal to an almost pleading ballad. Simone sang nearly every kind of music over the course of her career -- she would never allow herself to be pigeonholed. But here she sang jazz and did it like someone older than her 24 years.
In terms of the sound of this LP, Simone's voice is realistic enough to be able to close your eyes and feel her presence. Her piano has the percussiveness of the real thing. Bond's bass is deep and woody, and Heath's drum kit snaps. The soundstage, as I would expect from such an early stereo recording, is less than perfect. Simone's voice comes straight from the left speaker, fairly full, throaty and supple, and her piano emanates from just slightly to the right of her voice. The bass and drums are not, as I thought they would be, confined to the right channel but seem to stretch from the center of the soundstage to just inside the right speaker. There is a decent sense of soundstage depth.
One thing evident upon first listen is that this record definitely sounds like it was mastered from high-resolution digital files and not the original analog tapes -- which, in fact, is the case. There is a very slightly muffled quality, a slight lack of fullness and a reduced sense of sharp transients. There is also a distinct lack of air, which to me is the major characteristic of digitally sourced LPs. None of these things will diminish your enjoyment of the music -- at least they didn't mine. I was actually pleasantly surprised by how nice this LP sounded even with its non-analog origins.
Released on the Verse Music Group label with Naxos handling distribution -- though there is no indication of this on either the album jacket or spine -- Little Girl Blue is one of more than twenty choice Bethlehem titles being reissued on LP and CD. While not the equal of so many of the audiophile, "mastered from the original analog tapes" LPs you pay premium prices for, this one is priced fairly and will be a fine addition to any collection -- an album you'll listen to far more than once.