Nancy Wilson • This Mother's Daughter
Capitol/Pure Pleasure PPAN ST11518
Single 180-gram LP
1976/2013
| | | | | | | |
| --- | --- | --- | --- | --- | --- | --- |
| Music | | | | | | |
| Sound | | | | | | |
by Guy Lemcoe | April 1, 2014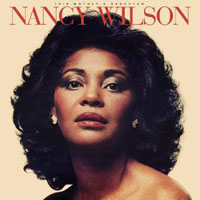 first started paying attention to Nancy Wilson back in the 1960s, when her debut single, "Guess Who I Saw Today," was all over the radio. Her confident 23-year-old voice poignantly recalling a discovered infidelity touched a nerve in me, and I followed her evolution as a singer. As my tastes in music broadened, I lost track of the three-time Grammy winner and most of her over 70 albums slipped by me. Recently finding This Mother's Daughter at my doorstep renewed my interest in the singer, and I sat down to give a listen and catch up.

Her voice, 16 years older here, remains as seductive, precise and flawless as ever, preserving the vocal and interpretive chops she displayed on earlier recordings. It's too bad the songs and arrangements don't resonate with me as her earlier work did. The music is soulful, often bluesy, with background vocals, strings, a funky groove and a very smooth, velvety sound. Were it not for the occasional spirited musical pulse, this record would make the perfect accompaniment for a candlelight dinner.

What's not to like? The music is too rooted in the 1970s, captured in a time capsule from which it cannot escape. The arrangements are competent but uninvolving -- a shame, given that the arranging talent, including Dave Grusin and George Duke, coupled with a who's-who of West Coast session men, such as Chuck Rainey and Steve Gadd, could have led to something special. Instead, This Mother's Daughter is a trek down memory lane, a pleasant blast from the past for those anxious to plug in the disco ball and don a polyester suit and platform shoes.

There is some fine rumbling bass from Chuck Rainey on "China" and some Flugelhorn noodling from well-known trumpeter Blue Mitchell on "Stay Tuned," a clone of Benny Golson's hard-bop tune "Killer Joe." Other than these two examples, though, nothing really stands out for me. The music is as homogenized as the milk in your refrigerator. I'm always flummoxed when I see credits for hair stylists and makeup artists on an album jacket, but they make some sense with this album.

London-based Pure Pleasure Records has done another exemplary job here.

The vinyl is perfectly flat and heavy with dead-quiet surfaces. The sound has an overwhelming mellowness, which is a stark (and pleasant) departure from the often steely quality of many 1970s LPs. There was not a strident note heard throughout the entire album. What was heard was a pro at work, coaxing the last nuance of feeling from songs presented cookie-cutter fashion in an attempt to appeal to fans of (then) contemporary soul. Maybe that's you more than it's me.