Mozart • Clarinet Quintet, Horn Quintet, String Quartet
AIX Records AIX 86065
Blu-ray 3D Disc
2012
| | | | | | | |
| --- | --- | --- | --- | --- | --- | --- |
| Music | | | | | | |
| Sound | | | | | | |
by John Crossett | November 15, 2012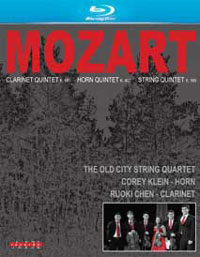 ozart wrote timeless music of every kind during his short but prolific life, but it was his work for small group -- quartet, quintet and trio -- that demonstrated his true genius most readily. If you follow the progression from his earliest writing for small group, which, while enjoyable, was influenced by those composers he admired, through his later works, you hear how he improved upon existing compositions to the point of making his own small-group works unique.
On this AIX Blu-ray Disc we are given a sampling of Mozart's small-group creations: an early string quartet (K.169) and both clarinet (K.581) and horn (K.407) quintets. Performed by Curtis Institute graduates who make up the Old City String Quartet (renamed the Dover Quartet) -- Bryan Lee and Joel Link on violins, Milena Pajaro-Van de Stadt on viola, and Camden Shaw on cello, joined by Curtis grads Corey Klein on horn and Ruokai Chen on clarinet -- these works come alive over 200 years after Mozart wrote them. While there is nothing ground-breaking in the performances, there is enough solid playing, enhanced by the 1280 x 720p video (if you choose to view it) and 24-bit/96kHz multichannel or stereo sound, to make this a release to treasure. It's obvious from both the sound and video that these musicians enjoyed what they were doing, and it shines though in their performances. I can honestly say that I find these performances to equal -- sonically as well as visually -- anything I have in my music collection, and I have more Mozart than I can easily inventory.
But what sets this disc apart is the inclusion of a high-res multichannel stage mix, an audience mix, a basic Dolby Digital-only combination of the previous two, and a high-res stereo mix, all accessible via the color buttons on the player's remote -- so you don't even need a monitor. Unique to AIX Blu-ray releases. there are also "pre-ripped" HD-Audio and MP3 versions of the tracks for music servers and portable players.
As to which perspective sounds best, it all depended on which I was listening to at the moment. I liked the feeling of being part of the group that the stage perspective gave, but I also liked the feeling of having the best seat in the audience. With the combination perspective, it was easy to hear the loss of fidelity when dropping down to Dolby Digital. Having a high-res stereo mix was a worthwhile addition to the package, especially if you're listening in a mere two channels. The music was recorded with no dynamic processing, reverb or compression, so you feel like you are there in the studio, especially if you include the video. The sound of the string quartet is top rate. The violins are silky smooth, with the proper bite of the bow on the strings. The viola is just as well captured, with a deeper, fuller sound than the violins and with the obvious sense of a slightly larger instrument. The cello is deep and burnished, and it sets a perfect foundation. When you listen to the horn and clarinet quintets you can hear air being blown through the instruments, the musicians' breathing, even fingers pressing keys.
The music flows, there are no glitches that shout "second-rate" recording or performance, and the Old City String Quartet are professionals. AIX has released a disc of beautiful music in high-resolution audio and video that take full advantage of Blu-ray's capabilities. I can't recommend this disc highly enough.