Miles Davis • Someday My Prince Will Come
Columbia/Music On Vinyl MOVLP 494
Single 180-gram LP
1961/2012
| | | | | | | |
| --- | --- | --- | --- | --- | --- | --- |
| Music | | | | | | |
| Sound | | | | | | |
by Guy Lemcoe | July 9, 2013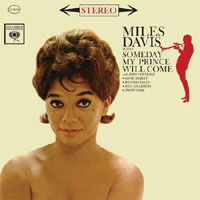 his 1961 recording presents a relaxed, introspective Miles Davis in the company of his then-regular quintet: Hank Mobley on tenor sax, Wynton Kelly on piano, Paul Chambers on bass and Jimmy Cobb on drums. Recorded in just three days at Columbia's 30th Street studio, it sounds as if no one involved broke a sweat. It is a languid, loping session that would go well with a fine California cabernet. Two guest appearances by John Coltrane make this session all the more essential.
The title song, played as a jaunty waltz, finds Miles at his creative, lyrical best with even a great player like Mobley seeming to be out of his league. On "Old Folks" Mobley acquits himself with an immaculate solo showcasing his burnished tone. The modal waltz "Teo" finds Miles reminiscing in the spirit of the "Saeta" section from the 1959 Gil Evans collaboration Sketches of Spain, with Coltrane particularly effervescent, launching into one of his short, interstellar musical journeys. "Pfrancing" is bouncy, light and extroverted, the closest the group gets on this album to a solid, hard-bop groove. The lilting, dirge-like "Drad-Dog" finds Miles in an especially introspective mood, Mobley contributing another tentative solo. The album closer, Jimmy Van Heusen's and Johnny Mercer's lovely standard "I Thought About You," lifts the spirits back to a somewhat happier plane. As expected, the rhythm section provides perfect, confident support throughout.
Music On Vinyl is headquartered in Holland, its huge catalogue of LPs growing literally by the week. Unlike all of the labels that cater to audiophiles, Music On Vinyl doesn't produce its LPs only from the analog master tapes. The label also uses the best-quality digital masters it can obtain, in the highest bit rates (24 bits minimum) and maximum sampling frequencies. "We never use 16-bit CD files," they are quick to announce. No matter the pedigree of the source, the sound here is luscious, clean, and free of digital glare. It has a tantalizing analog "glow." Miles is in the room with you, just right of center, his muted trumpet seemingly only inches away from the microphone. The ensemble is spread out realistically and palpably. Nothing sounds forced on this recording, and its transparency allows details such as the creaking of a stool and the sound of moist reeds to present themselves.
I no longer have my six-eye Columbia pressing of this LP, so I can't make a direct comparison. I can say that it never sounded this clean. Neither have I heard the 45rpm Analogue Productions release that Marc Mickelson reviewed a few years back nor the Columbia/Legacy mono reissue from this year's Record Store Day promotion. Comparing this LP to the Columbia Legacy CD, I would guess that the vinyl was created from a high-resolution digital source -- a hunch proven correct when I learned that 24-bit/192kHz files were used at Record Industry in Holland, where all Music On Vinyl LPs are pressed. The pressing is dead quiet, perfectly flat and reassuringly thick. The jacket is a beautiful reproduction of the original with a puckish Frances Davis, Miles' first wife, adorning the cover. The record label is a close approximation of the six-eye Columbia.
As I listened again and again to this album, fresh facets revealed themselves and it edged closer in stature to the classics Miles Davis recorded for Prestige in the '50s and even the masterpiece Kind of Blue. Fifty-two years ago producer Teo Macero and engineers Fred Plaut and Frank Laico got it right on 30th Street, and this re-release lets today's listeners enjoy the fruits of that labor.