Miles Davis • The Prestige 10" LP Collection, Vol. 2
Concord Music Group PRS 36036-01
Five 10" 33rpm LPs
1954/2015
| | | | | | | |
| --- | --- | --- | --- | --- | --- | --- |
| Music | | | | | | |
| Sound | | | | | | |
by Marc Mickelson | April 17, 2015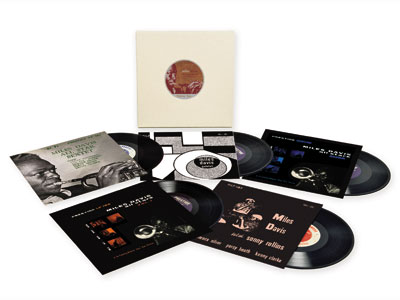 ecord Store Day and its Black Friday spin-off have been great successes for brick-and-mortar record retailers. They have become much-anticipated events, due to the abundance of special releases available in their honor, and they are reminders of the place the record store continues to occupy within our culture.
Concord Music Group used Black Friday 2014 to release the first volume of early Miles Davis titles from the Prestige catalogue and have followed this up with a second set, which will be available beginning on Record Store Day 2015, Saturday, April 18. Both collect five 10" mono LPs that replicate the very first format for this music.
It's important to know, however, that all of the music collected on The Prestige 10" LP Collection, Vol. 2, save for one tune, was released on a trio of 12" LPs: Walkin', Bags' Groove and Miles Davis and the Modern Jazz Giants. These are well-known Prestige titles with considerable collector value. If you are enough of a Miles Davis fan to consider this set, you likely already have these three 12" LPs, which have been reissued numerous times. Why, then, should you splurge on this set?
First and perhaps foremost, there is the item itself: nearly exact replicas of the original 10" LPs and their sleeves, right down to the labels, the tip-on construction of the sleeves, and the notes on the back cover, including misspellings and the original price: $3.95, tax included! Everything fits tidily into a sturdy cloth-covered slipcase. The set is limited to a total of 2000 copies.
As just about anyone reading this review will know, Miles Davis is jazz royalty. His career spanned more than 40 years, during which he was responsible for some of the most important music made in the twentieth century. These recordings predate all of that. They were released in 1954, recorded at Rudy Van Gelder's Hackensack, New Jersey, studio, before it was even imagined that Miles Davis would become an icon.
Davis was forever a musical explorer, but in 1954 bebop was the jazz vernacular and he played it as well as anyone. There are some classic numbers and lineups in this collection, not the least being those on Miles Davis with Sonny Rollins, which also features Thelonious Monk on piano and Milt Jackson on vibes. All Stars, Vol. 2 includes John Coltrane on sax, Red Garland on piano, Paul Chambers on bass and Philly Joe Jones on drums. This is the first lineup of the Miles Davis Quintet, and it would go on to record the classics Cookin', Steamin', Workin' and Relaxin' for Prestige two years later.
Analog tapes -- either the masters or backups -- were used as the source material, and the well-focused mono sound reflects this. It has the ease and easy flow of all-analog recordings. The Rainbo pressings are quiet, but one of the records I received had a pit on one side that caused skipping. If this were a release from Mobile Fidelity, Music Matters or Acoustic Sounds, one e-mail or phone call would facilitate a return and replacement. But with this being a limited-edition set sold though retail stores, some of which have a no-return policy for vinyl, I'm not sure how replacement would be handled.
As anyone who has attended Record Store Day at one of the busier outlets can attest, popular titles sell out quickly -- often within the first hour. While this set will be available on April 18, you will also be able to buy it online from Bull Moose and perhaps other sellers afterwards. It's important to know this, so you don't pay an inflated price on eBay for a set that should cost much less.
I've bought many Record Store Day and Black Friday releases, and none has impressed me as much as this one (that single manufacturing defect notwithstanding). The choice of material is inspired and the packaging is deluxe. I hope Concord has another such set planned for Black Friday 2015.