Mendelssohn • Symphony No. 2 in B-flat, Lobgesang, Op.52
Christiane Karg, Christina Landshamer, sopranos; Michael Schade, tenor; Pablo Heras-Casado conducting the Bavarian Radio Symphony Chorus and Orchestra
Harmonia Mundi HMC 902151
CD
2014

| | | | | | | |
| --- | --- | --- | --- | --- | --- | --- |
| Music | | | | | | |
| Sound | | | | | | |
by Richard Freed | June 10, 2014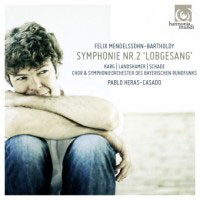 bout 60 years ago the enumeration of DvorŠk's symphonies was successfully and painlessly revised to encompass all nine instead of just the five published during the composer's lifetime, and also to reflect the actual chronology. That this was accomplished for one composer, however, doesn't mean it can or will be done for another. No one would dream of attempting to renumber Haydn's 107 symphonies in chronological order. They stand as a reminder that a number affixed to a symphony or concerto is, after all, only a way of labeling it, and really need not fill any other purpose. No one is about to renumber the four symphonies of Robert Schumann, either, or the five of Felix Mendelssohn.
When it comes to Mendelssohn, most of us are familiar with his Symphonies Nos.3, 4, and 5. All of these have convenient sobriquets -- respectively, the "Scottish," the "Italian," and the "Reformation" -- and these are far more reliable labels than the numbers, which, if strict chronology were to be respected, might be changed to 5, 3 and 2.
Mendelssohn, remember, composed quite a few large-scale works between the ages of 10 and 14 that he never published. He regarded the dozen symphonies for strings and all those early concertos (a very attractive one for violin and strings, in the style of Vivaldi; one for violin, piano and orchestra; two for two pianos and orchestra) as mere juvenilia. Among his five mature symphonies, No.1, Op.11 was composed at age 15 -- one year earlier than the amazing String Octet, Op.20, two years before the masterly Overture to A Midsummer Night's Dream. The "Scottish" was one of his very last works. The "Italian," actually the third of the five in order of composition, received the later number and the designation Op.90 because of its delayed publication. The"Reformation" Symphony, chronologically No.2, became No.5, Op.107, for similar reasons. The work at hand, actually the penultimate of the five, came to be labeled No.2, Op.52 -- and its fate, like that of the official No.1, was to become one of those works we are far more likely to encounter in the form of a recording than in a concert hall, and even among recordings generally reserved to the format of the "integral" set of the Mendelssohn symphonies, rather than being issued on its own. The present release is an exception in that respect, and a welcome one in every respect.
The Symphony No.2 is called Lobgesang -- "Hymn of Praise" -- and more or less amplifies the structure of Beethoven's Ninth Symphony, which preceded it by only 16 years, in creating a symphony whose first three movements follow more or less the layout of the classical norm and whose gigantic finale is twice as long as the choral one of the Ninth. It has been regarded in some quarters as a bit of a freak -- more of a grand cantata or oratorio, with an extended orchestral introduction, than a symphony -- and in others as a grand forebear of the song-symphonies of Gustav Mahler.
To be sure, Mendelssohn himself, who designated it a "symphony-cantata," conceived it as something grand. He composed it, in 1839-40, in response to a commission from the city of Leipzig, in celebration of the 400th anniversary of Gutenberg's invention of the printing press. Mendelssohn chose his texts from the Psalms, from passages in the New Testament, and from a 17th-century hymnbook. At the head of his score, he placed a statement from Martin Luther's 1525 Gesangbuch, which is translated, "But I would like to see all the arts, and especially music, in the service of Him who granted and created them."
At the outset of the opening movement, the trombones proclaim the motto that is to return to introduce the extended finale, wherein it supports the choral statement of a line from Psalm 150: "Alles was Odem hat, lobe den Herrn" ("Let every thing that hath breath praise the Lord"), which both introduces and concludes the "cantata" section.
In all, this is a curious work for a young conductor to choose at the outset of his recording activity. We are more accustomed to finding it offered by senior conductors rounding out their coverage of all five of Mendelssohn's mature symphonies. The Mendelssohn specialist Kurt Masur (who actually recorded all those early string symphonies as well as the five mature ones, all with the Leipzig Gewandhaus Orchestra, which Mendelssohn himself once conducted) comes to mind, as do Christoph von DohnŠnyi and the late Claudio Abbado, Wolfgang Sawallisch and Herbert von Karajan. It is refreshing to have such a work offered on its own, and particularly so when it is brought off as persuasively as it is here.
Pablo Heras-Casado is not quite as young as he looks in pictures such as the one on the cover of this recording. He is actually in his 37th year, and the unceremonial vitality he brings to this performance suggests a healthy seasoning on the podium as well as genuine enthusiasm for the piece. Not at all surprisingly in this respect, his c.v. shows a broad experience in choral music and opera as well as in orchestral conducting. When he was barely out of his teens, he founded an early-music ensemble in his native Spain -- as well as another devoted to contemporary works, and with the encouragement and support of Daniel Barenboim, among others, it wasn't long before he was appearing with major orchestras, choruses and opera companies everywhere, and running up an impressive array of honors, awards, and positions.
A point of parallel that this work shares with the Ninth is the very broad range of interpretive approaches it tends to encourage, represented in part (but only in part) by the timings of the various recorded performances. Masur, the old Mendelssohn hand, brought the work in at just under an hour. Abbado took an hour and a quarter. Riccardo Chailly, at 71 minutes, offered a tidy account, but one short on both the brio in Masur's performance and the expansive warmth of heart in Abbado's. While usually such a reliable interpreter in a remarkably broad range of repertoire, Chailly here sounds disappointingly self-conscious and a tad ceremonial -- the temptation to which is all too clearly written into this score (though Abbado, with his still more expansive pacing, managed to avoid this).
A near match for Heras-Casado's reading is that of Wolfgang Sawallisch, recorded more than 25 years ago with the Berlin Philharmonic, the DŁsseldorf Municipal Chorus, and three really top-notch soloists, which was available recently in EMI's budget-priced Encore series [5 75627 2], packaged without a printed text, a particularly regrettable omission for a work as unfamiliar as this one. Sawallisch, who never indulged in monumentalism, took about five minutes longer than Masur, two minutes longer than Heras-Casado, and was as persuasive as either of them. All three of these fine performances abound in spontaneity as well as utter belief in the music as something to be enjoyed rather than merely venerated. All three flow with an ingratiating quality that is as free of breathlessness as it is of ritual solemnity. But Heras-Casado's realization of this score is just a tad more bright-eyed than those of his senior colleagues, the playing of the fine Munich orchestra is more spot-on than Masur's Leipzigers, and the wide-open, beautifully balanced sound of this newest entry, if a tad short of "demonstration quality," nevertheless gives it a decisive edge.
The bottom line here for me was an impression of happy discovery -- not only of an interesting new conductor, but of the music itself. I did not think once of Heras-Casado or his picture while listening to this recording. The impression that formed early on and deepened throughout the 62 minutes was not "What a performance!" but rather, "What a splendid work, after all, with so much good stuff in it!" Harmonia Mundi, of course, with its characteristic fastidiousness, includes the complete sung text, with translations and identification of the respective sources, as well as exceptionally interesting, thoroughly unfussy annotation by Roman Hinke.