Matthew Sweet • Tomorrow/Forever
Honeycomb Hideout HH001 LP
Two 180-gram LPs
2017

| | | | | | | |
| --- | --- | --- | --- | --- | --- | --- |
| Music | | | | | | |
| Sound | | | | | | |

by Vance Hiner | July 5, 2017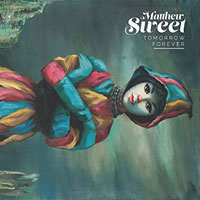 n the 26 years since Matthew Sweet's career-defining album Girlfriend was released, I've come to believe that he's actually two musicians. There's Matthew, the guitar-shredding, distortion-loving rocker who wants to rattle the walls and take out all of his frustrations on a vintage amplifier. Then there's Sweet, the perpetual romantic who channels all of that angst and longing into the warmest, filigree-filled love songs this side of Brian Wilson. The good news is that his latest album is a valentine to fans and a return to that let's-kick-ass-then-make-love formula that made him a '90s alt-rock favorite.
Side one of this double LP begins with the guitar crunch of "Trick," which takes on love's illusions in much the same way Sweet started that meditation on Girlfriend. It's then followed by the candy-colored power-pop gem "Entangled." In a just world, this song would be a massive radio hit and expose Sweet's considerable charms to a whole new generation of fans. But it's a completely different century now, and the only way Sweet could get a record made today was to launch a Kickstarter campaign. Fortunately, the fans came through and, with any luck, vinyl newbies will discover why his followers are so loyal when they hear the results on Tomorrow/Forever.
While Sweet plays a wide range of instruments on Tomorrow/Forever, he's joined by the Zombies' Rod Argent, the Jayhawks' Gary Louris, and the Bangles' Debbi Peterson as well as longtime associates Rick Menck on drums and Paul Chastain on guitar. The songs and sessions occurred over the course of several years, and Sweet produced them all at his Honeycomb Hideout Studio in Omaha, Nebraska. The overall sound is a mulligan's stew of Sweet's influences, which include Neil Young's Crazy Horse, Big Star and the Byrds.
That self-production leads me to one of my few quibbles with this release. Seventeen tracks is a lot of musical ground to cover, and even the best musicians need a little editing and perspective. A quick rearrangement of the very best songs would have resulted in an addictive, bona fide classic. A second disc of the outtakes could have been released as an extra for diehard fans. I encourage Tidal and Spotify users to create your own playlist from the album and see if you don't agree.
Sweet recorded Tomorrow/Forever digitally and Sean Magee subsequently mastered it for vinyl at Abby Road Studios. Magee's pedigree (he won a Grammy for his work on the Beatles' remasters) is unassailable, so I was surprised by the only somewhat-above-average sound quality of the dead-quiet vinyl. Because of the very bright and jangly sound of Sweet's guitars, a number of the tracks definitely benefit from the vinyl's overall warmth, but a number of other songs sound somewhat dull and less detailed when compared to the digital downloads. The album's gatefold packaging is sumptuous, and each disc's sleeve is adorned with easy-to-read lyrics, credits and vividly presented artwork. Friends who came over to listen all said "Wow" when they browsed through the packaging. The harlequin theme doesn't do much for me, but fans of Margaret Keane's "Big Eyes" kitsch will probably go crazy for it (my wife did).
Nitpicking aside, Tomorrow/Forever is an album by a veteran artist who's still creating music that makes me smile and sing along. Sometimes that's all a person really needs.