Luther Dickinson • Rock 'n' Roll Blues
New West Records NW6302
CD
2014
| | | | | | | |
| --- | --- | --- | --- | --- | --- | --- |
| Music | | | | | | |
| Sound | | | | | | |
by Vance Hiner | May 7, 2014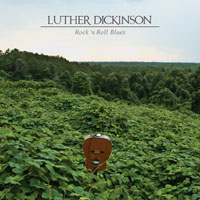 et me just say from the outset that I love the guitar work of Luther Dickinson. His voice? Not so much. I hear a poseur trying to sing the blues. But that's just me. My wife says he sounds "real," and she hears strains of the Replacements and the Violent Femmes.
Putting that controversy aside, Dickinson's first solo effort is a rollicking collection of country blues and punk that really does have its charms. What Dickinson does with a bottleneck on his many Gibson guitars conjures up the essential spirits of Elmore James, Duane Allman and Blind Lemon Jefferson, sometimes in a single song. But this disc is not just a stripped-down version of the North Mississippi Allstars, the band Dickinson works with on the day shift. Here he's celebrating a deep love of all sorts of roots music and isn't afraid to go wherever that passion leads him.
For instance, on "Yard Man" he and his three-person backup band sound for all the world like Mungo Jerry doing a long-lost B-side to "In the Summertime." The gut-slapping bass and foot-stomping kick drum on this track set a pace and tone that run through the whole affair.
On "Mojo, Mojo" the band churns out an infectious groove that calls to mind Canned Heat's "Going up the Country" and, believe it or not, Jaluka's "Scatterlings of Africa." Drummer Sharde Thomas's muscle work on this record sounds like Meg White, but she adds a healthy helping of southern-fried funk from her own family recipe. Interestingly, Thomas is the great granddaughter of blues fife player Otha Turner, whose original cane fife Thomas also plays on this track. The choice is brilliant because it draws the listener deeper into the true African roots of the blues.
Another example of what a fascinating gumbo of influences Dickinson has stirred up here happens on "Some Ol' Day." He and bassist Amy LaVere harmonize over a romping, stomping jam that conjures up the playful vibe of Paul McCartney's "Munkberry Moon Delight."
The album was recorded and produced in Mississippi by Dickinson himself, and he certainly learned something at the feet of his dad, legendary blues producer Jim Dickinson, who worked with a veritable who's who of '60s rock and blues icons. After years of his own touring, Dickinson understands what live music sounds like and has given the disc a real presence and immediacy. The majority of tracks have a three-dimensional soundstage and convey instrumental resonances that ring true to anyone who's stood next to someone strumming a guitar or killing a drum set.
Make no mistake -- this is music with a mind of its own. If you can get past some of Dickinson's occasionally awkward lyrics and delivery, it's a helluva trip through the dense humidity and dark green kudzu of the Delta to a cool little chicken shack at the end of the road. Luther's place is a ways off of Highway 61, but once you're there you might just become a regular.