Lal and Mike Waterson • Bright Phoebus
Trailer/Domino REWIGLP102
180-gram LP
1972/2017

| | | | | | | |
| --- | --- | --- | --- | --- | --- | --- |
| Music | | | | | | |
| Sound | | | | | | |

by Roy Gregory | August 30, 2017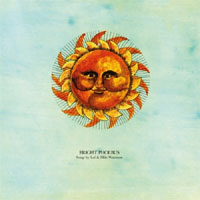 f ever a record were poorly served by circumstance, it is this one. Hailed in some corners of the folk world and by the music media as the genre's very own Sgt. Pepper's, featuring the support and participation of some of the UK folk revival's biggest players, many of whom consider it amongst their finest work, it seemed set for success. But that didn't stop it getting pilloried by sections of the press, and largely as a result of that and an appalling cutting job on the LP release, it was a total sales failure. How big a failure? Just try to buy a copy and you'll soon find out. Some estimates put the initial pressing run of acceptable discs as low as a thousand, with records stamped later than that exhibiting increasingly severe problems.
Despite its all but immediate disappearance from view, Bright Phoebus never quite sank without trace, and over the intervening years the album has developed a cult following. Of course, the presence of folk stalwarts like Richard Thompson, Martin Carthy, Ashley Hutchings, Dave Mattacks and Maddy Prior did no harm -- to the music or the legend. As is usually the way, the truth sits somewhere between these historical extremes; the story is more complex, the songs more variable, darker and more challenging than the cult would have you believe.
Orphaned young, the Watersons (Mike along with sisters Norma and Lal) started their musical life at the heart of an eponymous folk group singing traditional British songs on the burgeoning circuit of the 1960s. Constant touring took its toll, and the group decided to take a break in 1968, a break that soon became permanent. Lal married and Norma moved away from their North Country roots, while Mike filled in time as a painter and decorator. It wasn't until 1971 that Mike and Lal realized that they'd both been writing their own material and soon started to collaborate. Quite how Ashley Hutchings of Steeleye Span got to hear the demos is shrouded in mystery, although the fact that Martin Carthy, his bandmate, was soon to become Mr. Norma Waterson might well have had something to do with it. Either way, Hutchings was floored and impressed by what he heard, putting his considerable energy and influence behind an album project that would ultimately emerge as Bright Phoebus.
In what seems subsequently to have been an ironic twist, the sessions for the album were recorded across a five-day span in a makeshift studio, built in the basement of Cecil Sharp House, the home and bastion of traditional British folk music, an arrangement that facilitated the revolving door of guest performers. But when the album appeared in 1972, the backlash was sudden and violent. This was the time when folk was turning electric, with Dylan and the likes of Steeleye Span challenging and overcoming the entrenched conservatism of the folk establishment. The dividing lines grew deeper with each passing year, building a head of pressure and resentment that was just waiting to burst. The unsuspecting Bright Phoebus stepped straight in front of the truck.
For the folk establishment, the Watersons owed their credibility, their very artistic existence, to the traditional songs associated so closely with their name. That sense of ownership brooked no disobedience, so what Mike and Lal just saw as natural musical expression and development, singing their own songs as opposed to someone else's and along the way producing a record that didn't just challenge folk orthodoxy but which contained shades of rock 'n' roll, country, jazz and even a hint of psychedelic pop, was considered by many in the Watersons' audience as nothing short of betrayal. In that light, the presence of those Steeleye Span/Fairport Convention alumni merely made matters worse. Meanwhile, the collapse of folk-music sales in general soon saw Trailer Records in trouble and selling rights to stay afloat. The tapes for Bright Phoebus passed through several hands before disappearing from view, apparently lost forever.
Nature abhors a vacuum and the one-time distributor for the original record started offering a CD reissue, allegedly transcribed from an original record, a situation that led to a vitriolic legal dispute with Mike Waterson. Despite its burgeoning reputation, the presence of a tribute album, Shining Bright, recorded in 2002, and some commemorative concerts in 2013, the album itself remained firmly absent from the catalogue. Lal Waterson succumbed to cancer in 1998, and Mike also died in 2011. What no one knew was that the Watersons had squirreled away the original Bright Phoebus tapes (with which Waterson or where the tapes had been remains unclear), meaning that the album can finally get the cut, pressing and re-release its reputation so clearly demands.
I do love a good backstory and they don't get much better than this one. The question is, is the record up to the tale? First, a word about the production and presentation: I've never heard the original, so I can't comment on relative qualities, but what I can confirm is that the cut is clean, the pressing flat and the gatefold sleeve and eight-page booklet beautifully presented. My pressing had a few surface glitches straight out of the sleeve, but a visit to the ultrasonic cleaner banished them. This is definitely the record Bright Phoebus should always have been, its beautiful production values carried over into the power and presence of the performances.
And "power" is the byword here. This is no nicey-nice girl-and-guitar outing. The Watersons' life experiences, the darker side of folk traditions and the unadorned nature of the singing and production, make this much more Gillian Welch than Alison Krauss. The pain in a song like "Child Among The Weeds"' -- Lal's lament for her stillborn twin child -- is palpable, the darkness in a song like "The Scarecrow" -- all about ritual and with hints of sacrifice -- riding near the surface. Yet songs like "Winifer Old" and "Magical Man" make sense of the Sgt. Pepper's comparisons, while "Danny Rose" has more than a hint of Chuck Berry to its jaunty, rock 'n' roll chords, so at odds with its murder-ballad roots.
But therein lies the clue: this is an album that overturns or simply ignores convention. It has a magpie's eye for the musical shiny bits but an unerring feel for cause and effect. Such is the range and breadth of style and material that every listener will find a song here that speaks to him or her, be it the optimistic outpouring of the title track or the wry self-deprecation of "Red Wine Promises."
The Watersons' reputation was built on their offbeat harmony renditions of traditional songs, and that's a legacy that imbues the music here. The voices are stark and uncompromising, from Mike's flat, nasal tones, to Lal's raw immediacy. It doesn't make for comfortable listening, but it makes for musical and emotional impact, heightened by the contrast with the richly mainstream, vanilla backing vocals, courtesy of the peerless Maddy Prior and her folk-royalty co-conspirators. With Richard Thompson providing electric or acoustic guitar on all but one track and Carthy, Hutchings and Mattacks weighing in with stellar support, it's no surprise that the arrangements are as inventive as they are varied. No album as nascent and experimental as this can expect to be consistent when it comes to quality. Sgt. Pepper's had a lot of records running up to it; Bright Phoebus is a debut album -- and a debut from more than one writer. Yet somehow that adds to the appeal. It's clearly an adventure, an optimistic outing carried along on the sheer enthusiasm of its protagonists and supporters. That it was to fall foul of the folk establishment and the general collapse of the traditional market, plummeting into the chasm before the real commercial rise of the Fairport family, is an artistic tragedy, mirrored by the fact that neither Mike nor Lal Waterson ever saw it receive the acclaim it so richly deserves.
Regularly quoted these days as a major influence by current folk and roots musicians (just look at the artists contributing to Shining Bright, including Christy Moore, Eliza Carthy, Billy Bragg, Richard and Linda Thompson and Blue Murder) as well as bands like Arcade Fire, Bright Phoebus might not be an album for everyman, but it is an album that every man -- and woman -- should own.