Korngold • Symphony in F-sharp; Tänzchen im alten Stil
Helsinki Philharmonic Orchestra, John Storgårds conducting
Ondine ODE 1188-2
CD
2011

| | | | | | | |
| --- | --- | --- | --- | --- | --- | --- |
| Music | | | | | | |
| Sound | | | | | | |

by Richard Freed | November 22, 2011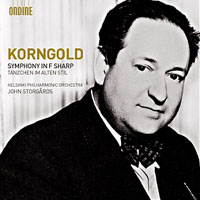 y now most of us are aware that Erich Wolfgang Korngold's reputation as a Hollywood film composer does not constitute his full story. He enjoyed enormous recognition throughout Europe from well before the movies had sound or he himself reached the age of 20. His opera Die tote Stadt ("The Dead City"), introduced in both Hamburg and Cologne on the same evening (when he was 23 years old) and given by the Metropolitan Opera in New York the following year, enjoys performances in many areas now, and is one of several Korngold operas that have been recorded. In the concert hall, at least two of his major works -- the Violin Concerto he composed for Jascha Heifetz and the postwar Symphony in F-sharp -- have been recorded several times, and are edging their way into the "standard" repertory.
The Symphony in F-sharp, dedicated to the memory of President Franklin D. Roosevelt, might be regarded as a tribute to Korngold's adopted country. Although no specific "program" was ever attached to it, this is definitely dramatic music, in the good old 19th-century sense but in a language more consonant with Korngold's own time. It has been fortunate in its handful of recordings, which began with a splendid one conducted by Rudolf Kempe back in 1972. This splendid new one from Ondine takes its place at the head of the list in respect to both performance and sound.
John Storgårds obviously believes in the work, and has very effectively transmitted that belief to his orchestra, whose level of playing will come as no surprise to listeners familiar with his recent Klami and Sibelius collections on the same label [ODE 1143-2 and 1147-2, respectively]. The appended "Little Dance in Olden Style," composed in 1919, the year preceding the aforementioned operatic "double premiere," had apparently not had a public performance until Mr. Storgårds conducted it at the Jyväskylä Festival in 2007. It is a wistful piece, a sort of goodbye to the world Korngold had known before Europe was irreversibly changed by WWI. Storgårds shows excellent judgment in not attempting to make it into something grander, and it serves here as a welcome and rather touching encore.
All the substance of both works, and all the intensity and commitment on the performers' part, are splendidly conveyed in Ondine's vivid and spacious recording. What is remarkable about that is that the recording was made in the by now notorious Finlandia Hall, whose acoustics had never been friendly to music and which was grandly superseded at the end of last summer by the sonically superb new Music Centre, with acoustical design by Yasuhisa Toyota. This is not the first time, of course, that a venue inhospitable to live concerts turns out to be quite effective for recording, or vice versa.
In this instance the impressive sonic image may be attributable in part to the DXD process, which Ondine began using recently. Those initials stand for Digital eXtreme Definition, an encoding system originally created for Merging's Pyramix DSD workstation and claimed to be more suitable than DSD for the editing process. It is characterized as being similar to basic PCM, but with a sampling rate eight times that of Red Book CD and a data rate four times greater than DSD.
This process does not require special playback equipment, as SACD and HDCD do, but it can make a very attractive difference, as Ondine has demonstrated on the aforementioned Klami and Sibelius CDs, but perhaps even more effectively on the new Korngold. This is to be followed by another helping of this composer's music from the same source, this time pairing the remarkable Sinfonietta (an expansive, fascinating work introduced when the composer was 16 years old) with the hitherto virtually unknown extended version of the suite from Much Ado About Nothing. The present release should assure it of a warm welcome.