Kenny Burrell • God Bless the Child
CTI/Pure Pleasure CTI 6011
180-gram LP
1971/2015

| | | | | | | |
| --- | --- | --- | --- | --- | --- | --- |
| Music | | | | | | |
| Sound | | | | | | |

by John Crossett | April 14, 2016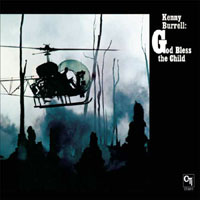 enny Burrell is the consummate jazz pro, an inventive guitarist with a long career that began in 1951 with Dizzy Gillespie's big band and has proceeded right through to today. Any session he has led or been a part of was infused with class. Known primarily as a musician, Burrell can lay claim to another skill that may help explain why he has always been in demand: he's a college graduate with a degree in music composition and theory. The precision demanded by that field, combined with the freedom to be open to interpretive play of jazz, is a rare and heady combination.

With a string of recordings for the Blue Note label (both as leader and sideman) behind him, spanning the years 1956 to 1963, Burrell recorded for a number of labels by the time this session for Creed Taylor's CTI label was laid down in 1971. Despite this album being something of an orphan (it was his only recording for CTI), it is one of Burrell's strongest recording dates as a leader. Taylor had the foresight to put Burrell in the company of similarly talented sidemen: bassist Ron Carter, drummer Billy Cobham, trumpeter Freddie Hubbard, flutist Hubert Laws, keyboardist (both acoustic and electric) Richard Wyands, percussionists Ray Barretto and Airto Moreira, along with a small string contingent under the direction of Don Sebesky, who does some of his best arranging here.

God Bless The Child contains three Burrell originals, the classic title tune, and a Thad Jones original. Burrell is clearly the leader, floating over, around and through these tunes in a manner that bespeaks both his jazz and classical training. The resulting music flows with elegance. Given that not all of the musicians play together on every number, this is really small-group, straight-ahead jazz backed by that small string ensemble.

Taylor used Rudy Van Gelder to record these sessions, putting Burrell in a setting with which he was already extremely familiar and comfortable from his Blue Note days. Burrell's guitar, as one would expect, is placed front and center and is very easy to follow. Hubbard's trumpet has that brassy sound one hears live. Carter's subdued bass style sets a wonderful foundation for Burrell and company to play over. And even Cobham, long known for his rather exuberant playing, tones it down here to blend in perfectly while still demonstrating his abilities. The sound of this album is for the most part very well done. The soundstage is wide, though not very deep. Each instrument has its own acoustic space in which to shine -- with Burrell's guitar leading the way. The Pallas-pressed LP is flat and dead quiet.

Kenny Burrell has recorded many fine albums over the course of his long career. I have many of them in my collection. God Bless The Child is among his best. It features an accomplished musical professional in an edition from a reissue label known for top quality, This is an album to acquire in a hurry, play, and treasure for years to come.