Jean-Michel Renaud & Melissa Brouillette • June in the Fields
Fidelio Music LP FALP 044
Single 180-gram LP
2013
| | | | | | | |
| --- | --- | --- | --- | --- | --- | --- |
| Music | | | | | | |
| Sound | | | | | | |
by John Crossett | May 1, 2015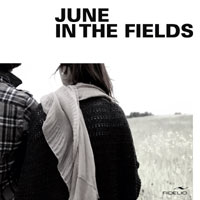 his is the first album from guitarist Jean-Michel Renaud and vocalist Melissa Brouillette, with support from Sebastian Saliceti on acoustic bass. At 25 years of age, Renaud is already a world traveler and, according to friends and family, always carries a guitar with him, so his songwriting draws on a multitude of influences. Brouillette has had a love of singing most of her life, and after getting her degree in classical and jazz vocal, she is now enrolled in jazz classes at the University of Montreal.
This hardly seems like the background that would spawn a folk duo, and yet on June in the Fields they play the music like they were bred to the style. Renaud penned all the tunes on this album. There is an innocence and purity here, as exemplified by the song "Back in the Country," where Brouillette and Renaud harmonize beautifully, their voices both contrasting with and complimenting each other. Renaud's guitar is the perfect accompaniment to such pure, honest vocals. After losing Pete Seger, who died early in 2014, it's refreshing to hear the younger generation picking up the mantle and carrying the folk tradition onward.
Sonically June in the Fields is a blockbuster. I expected great things, because the album was recorded by René Laflamme. I've heard his master tapes played back on his Ampex tape machine at audio shows, and I own a number of his SACDs and CDs, some of which have become staples in both my listening and equipment reviewing. I've also discussed his recording philosophy with him. Thus, I thought I had a handle on what to expect here, but I should have known that there would be a fairly large difference between his previous digital releases and this all-analog LP. While his SACDs were always dazzling, this LP is astounding. The voices are among the purest and most present I've ever heard recorded. It was more like I was in the room with them. Even when they harmonize, it was a simple matter to sort out each voice and how it blended with the other. And it wasn't just the voices that were so spookily real. Renaud's picking had a sense of truth. I could picture in my mind's eye his fingers plucking each string, creating a sound that so perfectly accompanies the vocals. His playing is a thing of beauty. The bass here is used solely as a backup instrument, and that is how it is played -- quietly, supportively.
After hearing this LP, hearing what René Laflamme is capable of capturing on tape, my only nit is that June in the Fields is one of only two all-analog Fidelio recordings commercially available. It's my sincere hope that this LP will garner enough acclaim and success to induce Laflamme to dig into his vault and release more of his work on LP.
June In The Fields is a true demo recording of real, honest music. If you play records and have even the remotest interest in folk music, you should put it on your list of LPs to purchase.