Johnny Cash • The Fabulous Johnny Cash
Columbia/Impex Records IMP6008
Single 180-gram LP
1958/2012
| | | | | | | |
| --- | --- | --- | --- | --- | --- | --- |
| Music | | | | | | |
| Sound | | | | | | |
by Marc Mickelson | July 10, 2012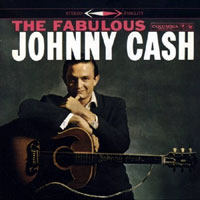 ohnny Cash, the American icon, "The Man in Black," was country-music royalty, right down to his marriage to June Carter, princess of country music's first family. Yet, he rejected the Nashville establishment, his style, both personal and musical, not aligning with the center of the country-music universe. His songs and sound extended across many genres: rockabilly, rock'n'roll, blues, folk, and gospel. He achieved a rare musical trifecta: induction into the Country Music Hall of Fame, the Rock and Roll Hall of Fame and the Gospel Music Hall of Fame.
The Fabulous Johnny Cash -- recorded the same year as Sun Records' impromptu "Million Dollar Quartet" session, 1956 -- was his first album for Columbia Records, the label for which he would record for more than 25 years. It was his best studio album for the label, challenged in overall quality only by his live outings at Folsom and San Quentin prisons, and its success was due to the elements of his musical magnetism -- his forceful guitar picking and resonant baritone voice -- along with his outsider attitude.
In fact, The Fabulous Johnny Cash was as much western as country, plowing familiar ground for its time. Backed by chugging guitar and rhythmic drumming, Cash hits all of the important themes: cowboying, hard living, heartache, drinking, making music and the power of God. His voice has an aura of reverb, as was the custom for country music in the 1950s, enhancing its sense of authority. "Frankie's Man, Johnny," Cash's clever reworking of "Frankie and Johnny" from a musician's point of view, is the high point of side one, with the gunslinger saga "Don't Take Your Guns to Town," also written by Cash, providing some cinematic drama on side two.
Once again, the Impex crew has not only improved upon an original pressing, they've done it in an original way. The sound of this reissue is full and fully integrated, not parsed and scrubbed of its wholeness. Cash's voice is more booming, seemingly coming from deeper within his chest, the twangy reverb complementary instead of overwhelming, as it is on the thinner-, grayer-sounding Columbia LP. Of course, the reissue also has the advantage of the RIAA EQ curve on its side, what most will use for playback, although even with the Columbia curve dialed in, the original LP's leaner midbass and reduced authority are obvious. The reissue's RTI pressing is superbly quiet, letting all of the music's fine detail shine through.
Johnny Cash's stripped-down albums with producer Rick Rubin are often the way younger listeners first encounter him, his voice far mellower and not as sure. He's in his prime on The Fabulous Johnny Cash, singing with all the power and grip of a young man, and his choice of material is astutely guided. If you think, as I do, that country music has seriously lost its way, this album will remind you just how it has gone off the track.