Johnny A. • One November Night
Aglaophone Records AR-110107
CD & DVD
2010
| | | | | | | |
| --- | --- | --- | --- | --- | --- | --- |
| Music | | | | | | |
| Sound | | | | | | |
by Marc Mickelson | April 12, 2010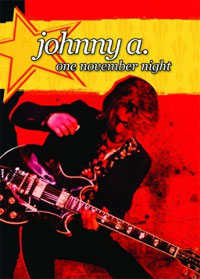 uitarist Johnny A. has played literally all over the world, most notably during a seven-year stint as lead guitarist in former J. Geils Band frontman Peter Wolf's band. Yet, when he released his debut album, Sometime Tuesday Morning, in 1999, he had minimal expectations. This nearly solo-guitar album -- just Johnny A. with bassist and drummer -- on which he played an array of covers and originals did not seem destined for overwhelming success. "I thought it might be the last thing I ever recorded," he admitted, "maybe something for my daughter to listen to in the future so she'd know what her dad once did." But it became much more than that. "To my surprise, it sold 90,000 copies and launched this entire phase of my career."
This "phase" is as a headlining guitarist whose virtuoso stylings call to mind Les Paul, Jeff Beck, Jimi Hendrix and Stanley Jordan. He has produced two more recordings, this most recent a live CD-DVD set captured at Scullers in Boston, his hometown. The originals from his first solo effort and its 2004 follow-up, Get Inside, show off Johnny A.'s virtuosity. Searing power chords mix with light touches and chugging rhythms to produce an impressive musical stew. The tastefully chosen covers, such as Jimmy Webb's "Wichita Lineman" and Chuck Berry's "Memphis, Tennessee," act as anchoring points. We know these numbers, and this gives Johnny A. the opportunity to play off expectations. "Wichita Lineman" is deftly paced and achingly beautiful, capturing open spaces and longing in equal amounts. The allure of this music comes from the dexterity and variety of the guitar work -– at once powerful and raw, then quiet and tender. Johnny A. understands the importance of the silence between the notes as well as the excitement generated by brute power.
"Walk Away Renée," not part of the concert, appears only on the set's DVD, which includes most but not all of the numbers recorded on the CD. The video is nicely edited, giving many shots of Johnny A's fingers as they pluck or slide over the strings. The DVD doesn't have a high-resolution music track, so the sound is identical to what you'll hear from the CD, which is vivid and clear, though lacking in three-dimensionality.
I hope those people who discover Johnny A. through this CD-DVD set add to the 90,000 copies sold of Sometime Tuesday Morning. It's a gem. But as an artifact of guitar artistry, One November Night sparkles brightly too.