John Patitucci • Irmãos de Fé
Newvelle Records NV007LP
180-gram LP
2017

| | | | | | | |
| --- | --- | --- | --- | --- | --- | --- |
| Music | | | | | | |
| Sound | | | | | | |

by Guy Lemcoe | May 29, 2017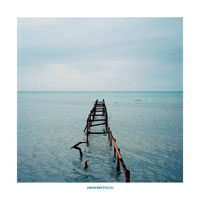 he sensual and passionate music of Brazil is the theme of this LP, the first release in Newvelle Records' second series. Like its predecessors, it features a studio session with frontline jazz players captured in exceptional sound and pressed on pristine vinyl. Veteran leader, session man, two-time Grammy winner and bassist John Patitucci leads his trio through songs by several of Brazil's finest composers, including Milton Nascimento, Egberto Gismonti, Antonio Carlos Jobim and Chico Buarque. The atmosphere is tropical and lazy-day relaxed, the tunes a perfect garnish for a chilled caipirinha.

Side one opens with "Irmão De Fé," a haunting melody from Milton Nascimento, one of Brazil's most prominent singer-songwriters. It's an angular, disjointed piece showcasing Yokam Silberstein's ethereal guitar and Patitucci's acoustic bass. "Catavento" follows, a jaunty tune by Nascimento featuring more of Silberstein's liquid guitar. "Pr'um Samba," a beautiful composition by Brazil's enigmatic Egberto Gismonti, is next, oozing intrigue and mystery, sounding as if it were lifted from a late-'50s film noir. Patitucci gently caresses his acoustic bass in advance of Silberstein's airy guitar. Gorgeous! "Desvairada" offers a change of pace from somber to lively. However, with all due respect to the composer, Anibal Augusto Sardinha, this choro sounds to me like a page from a guitar-student's book of scale studies. Silberstein does acquit himself quite well here, negotiating the lines with ease. Closing the side is the introspective ode to lost love, "Olha Maria." It is another pensive tune featuring Patitucci on bowed acoustic bass with Silberstein's guitar serving as smart accompaniment. I'm no fan of arco bass. To me it too often sounds like the bow on the depressed string is searching for the right pitch. Not so here -- Patitucci makes his instrument sing.

"Samba do Grande Amor" begins the second side with spot-on harmonics courtesy of Silberstein's fluid guitar. The dance feel is intoxicating. Midway into the song, Patitucci demonstrates his mastery of his custom Yamaha semi-hollow-body electric bass. I wanted more after the tune suddenly came to an end. "As Vitrines," a haunting ballad with Patitucci on his woody-sounding acoustic bass, is next. Both he and Yokam shine on this one, plucking beautiful lines from the chords in this barely moving song. "Nilopolitano" is a busy tune with all players thinking as one. If it were played in a club, you'd be hard-pressed to dance to this one, but musicians in the audience would be pleased. It's as linear as a ruler, with everyone at the top of his game. "Sinhá" concludes the album with Patitucci on his Yamaha again and a pensive intro guaranteed to give your woofers a workout. With the additional low-B string on the bass, frequency extension dips south of 40Hz. I should also mention percussionist Rogerio Bocatto's presence here and throughout the album. It's sensed more often than heard -- he propels the music with unobtrusive energy.

As with previous Newvelle Records releases, I found the packaging to be drop-dead gorgeous. This time it features a Meyer photo sourced from the French collective Tendance Floue gracing the front of the sturdy, matte-finished gatefold cover. Inside, a more mysterious photo by Jerome Brezillon unfolds. The heavyweight, translucent vinyl is flawless and dead quiet, courtesy of the French MPO pressing. The uncompressed sound puts you within reach of the musicians, thanks to Marc Urselli's engineering, East Side Sound's studio and Alex DeTurk's mastering at Masterdisk. As with other Newvelle releases, there are two inner sleeves. The one containing the record is plain white and lined with vinyl-friendly tissue paper. The other is thicker and glossy, and it contains producer's notes and lyrics to the songs "Olha Maria" and "Sinhá."

There is neither a harsh nor unharmonious note on this quietly reflective album. It's as refreshing as an ocean breeze on a warm, sunny day, and its tranquility will lift your spirits, providing the perfect elixir for these cantankerous times. It is an artfully constructed object that radiates elegance -- like all of the Newvelle Records releases I've encountered so far.