John Lewis • The Wonderful World of Jazz
Atlantic/Pure Pleasure SD 1375
180-gram LP
1960/2017

| | | | | | | |
| --- | --- | --- | --- | --- | --- | --- |
| Music | | | | | | |
| Sound | | | | | | |

by John Crossett | May 5, 2017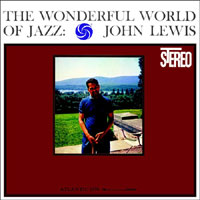 espite a very long and distinguished career, John Lewis (1920-2001), pianist and musical director of the Modern Jazz Quartet (MJQ) since its inception in 1952, was woefully underrepresented as a front man and leader during his most productive years (the other three members of MJQ either led or participated in countless sessions outside the group). Lewis's own discography does offer many recordings, most of which came after the mid-1970s breakup of the MJQ. Much of the cause for this was self-induced -- Lewis had very firm views regarding the music he performed -- and the rest was due to the lack of press he received as a solo act. But a closer examination of Lewis's work outside the Modern Jazz Quartet reveals a man whose musical interests were both wide and deep. He wrote a few scores for films and, somewhat surprisingly, even a ballet score, as well numbers for some well-received jazz albums.

On the 1960 recording under review here, we get Lewis as leader in quartet, sextet and nonet settings backed by such jazz luminaries as Jim Hall, Herb Pomeroy, Paul Gonsalves, Benny Golson and Eric Dolphy. About the only constant on this album, besides Lewis himself, is the rhythm section, which is consists of Hall, George Duvivier and MJQ drummer Connie Kay. Lewis contributes two original tunes, and the remaining three are jazz standards. The diverse group combinations allow Lewis to create a musical palate that best lends itself to the particular tune under consideration. Take "Body and Soul" which, in Lewis's hands, sounds almost delicate compared to the more muscular versions by Coleman Hawkins and others performed in a sextet setting. The nonet version of Lewis's "Afternoon In Paris" features a sax trifecta: the alto of Eric Dolphy, the baritone of James Rivers and the tenor of Benny Golson. The quartet setting for "I Remember Clifford" allows Lewis to imbue a very palpable sense of loss.

The sound of this 1960 stereo recording is very good despite the prominent hard-left/hard-right sound typical of many jazz recordings of the era. The instruments sound full and real. Pomeroy's trumpet has just the proper amount of brassy bite, the saxes have the right mixture of reed and metal, the guitar has an excellent sense of fingers on strings, the bass is wooden and full, and Lewis's piano has good heft and a precise sense of hammers hitting strings. His playing also displays both his precision and low-key style, as well as inventiveness -- playing what comes to mind in the moment.

Given the rather limited all-jazz solo recordings under Lewis's name, this reissue is all the more welcome. Originals, while not too difficult to find, will not come as clean, flat and quiet as this Pallas-pressed Pure Pleasure LP. The remastering here allows us to hear all that Lewis put into this album, and it will play on my turntable far more often than I might have thought when I first received it.