John Coltrane • My Favorite Things
Atlantic/ORG Music ORGM-1080
Hybrid SACD
1961/2013

| | | | | | | |
| --- | --- | --- | --- | --- | --- | --- |
| Music | | | | | | |
| Sound | | | | | | |

by John Crossett | November 22, 2013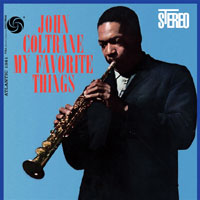 t the time of the release of My Favorite Things in 1961, John Coltrane was approaching a major crossroads in his career. He would soon leave Atlantic Records for Impulse! and the opportunity to explore all of the facets of his music, a momentous shift in many ways. While we can hear the seeds of his innate adventurousness being sown here, he is still accessible. However, it takes a musician with total self-confidence and a world of ability to dip into the music from a classic musical like The Sound Of Music and snatch a song like "My Favorite Things." Coltrane was widely recognized as one of the giants of the jazz world, so it should really come as no surprise that he decided to not only use that particular song as a vehicle for his improvisations, but also as the title for his album. What he created with his version of this timeless classic is an equally timeless classic.
There are only four tunes on this album, giving Coltrane and company the room to stretch out musically. With pianist McCoy Tyner and drummer Elvin Jones, Coltrane plays as three-fourths of what would become the classic quartet of his Impulse! period. Only bassist Steve Davis wouldn't make the musical journey to Impulse! Here the four fully coalesce and play with creativity, verve and gusto. Coltrane plays soprano sax on the first two cuts, improvising on an instrument he was just beginning to use publicly (though he is shown with on the album's cover), and his usual tenor sax on the last two, yet the results speak for themselves. He sounds muscular and delicate at the same time. While never losing the melody, he still veers off in unexpected directions.
Coltrane's Atlantic stereo albums have the hard right/left perspective that was a product of the day. It sounds dated now, often making the mono versions more listenable. However, the clarity of the tone and timbre of each instrument -- especially Coltrane's horns -- was top notch. You will really be able to hear not only how the tone of each instrument differs but also how the air flows through each one's different shape. Davis's bass is also given excellent treatment, with a full, deep, woody tone. Tyner's piano and Jones's drums are limited only by being crammed into the left channel, thus not fully blooming as they would in real life. But thanks to the extra resolution of this SACD, and Bernie Grundman's mastering, even this isn't a sonic deal-breaker.
Though many of Atlantic's master tapes were lost in a warehouse fire, ORG Music was able to use the masters of My Favorite Things for this SACD (and the double-LP 45rpm set). The live-in-the-studio sound captured here would be scrubbed away if these were mere safety tapes. If this attention to detail is what ORG Music has for all of its releases, then we have yet another reissue label to keep a close eye on. They've taken a jazz classic and given it new life, to become a must-own recording all over again.