Joe Henry • Invisible Hour
Worksong WSD002CD
CD
2014
| | | | | | | |
| --- | --- | --- | --- | --- | --- | --- |
| Music | | | | | | |
| Sound | | | | | | |
by Vance Hiner | January 22, 2015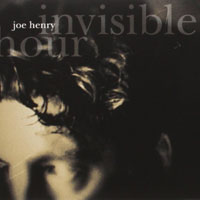 he first time I heard Joe Henry's music was back in the '90s in Lawrence, Kansas. I was browsing in the now-defunct Streetside Records and was stopped in my tracks by a voice coming out of some raggedy Acoustic Research speakers. The voice was unique: part young Dylan, part aging Van Morrison. The mood was laconic, late-night, L.A.-hipster territory. I walked up to the snarky record clerk who usually rolled his eyes whenever anyone asked about music, and his face almost lit up when I asked about the tune. "It's Joe Henry. Pretty cool guy, but he's Madonna's brother-in-law."
That was nearly 20 years ago, and while Madonna is still part of Henry's bio (give the man credit for being happily married to the same woman for 27 years), he has managed to build an impressive body of moody, off-the-beaten-track music. As an early protégé of musician and producer T-Bone Burnett, Henry learned to follow his inspiration wherever it leads him. Easy labels don't apply. He sheds styles like any talented artist abandons one set of colors when composing for a more challenging medium.
While early works like
Trampoline
[Mammoth 980109] and
Fuse
[Mammoth 980190] are a young man's gritty and experimental forays into everything from mariachi to R&B,
Invisible Hour
, Henry's thirteenth album, finds him more contemplative and at a particularly enviable place in a 54-year-old man's life. In addition to a highly successful career as a producer (33 albums and counting), he has raised a son named Levon who arranged and played all the reed sections throughout the disc. Nepotism had nothing to do with that decision; I suspect even the picky Morrison would be proud to have these horns on stage with him back in Belfast. In fact, an Irish spirit permeates Invisible Hour, which Henry dedicates to poet and playwright Seamus Heaney.
Young Levon's reed work is fundamental to the success of this disc. His horns rise from the depths of the melancholy music and soar, giving many songs a surprisingly spiritual and haunting element. On the track "Grave Angels", just as Henry sings, "I take this to be holy -- if futile, uncertain and dire. . . " Levon's clarinet and saxophone weave a contrapuntal tapestry of notes that that seems to swirl and sail upward like a prayer. It's a powerful moment that I have heard before when families play music together.
The production is rich, layered and warm without sacrificing the razor's edge when it's needed. Every instrument is strategically placed in the wide soundscape and is surrounded by a sense of air that can only be achieved when a talented producer is at the controls. If you liked Henry's production work on Allen Touissant's Bright Mississippi [Nonesuch 7559799287] and Hugh Laurie's Didn't It Rain [Warner Bros. 5310571372], you will feel right at home with these sessions. Jay Bellerose's now-famous drum kit and the myriad guitars of legendary session man Greg Leisz ensure that the songs hold up to closer scrutiny. Every fill, flourish and filigree amounts to a master touch that makes each listening sweeter than the last.
With Invisible Hour, Henry has accomplished something rare -- an audiophile-grade recording that inspires the mind and moves the soul. It's been some time since a record has gotten so deeply under my skin.