Jazz at the Philharmonic in Europe
Verve/Speakers Corner V 8539-V 8542
Four-LP set
1963/2009
| | | | | | | |
| --- | --- | --- | --- | --- | --- | --- |
| Music | | | | | | |
| Sound | | | | | | |
by Marc Mickelson | May 9, 2010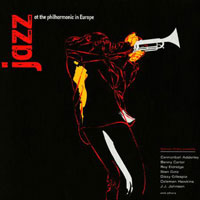 orman Granz founded four record labels -- Norgran, Clef, Verve and Pablo -- but one of his most enduring musical accomplishments was the Jazz at the Philharmonic (JATP) series. Begun in 1944 as a fundraising event in Los Angeles, JATP turned into an annual tour featuring some of the finest swing and bop musicians of the time. Granz ceased the US concerts in 1957, but in 1960 he took JATP on the road for a group of dates, and recordings, in Europe, and from these came some of the series' most significant music.
This set of four individual LPs captures the performance that took place at the Konserthuset in Stockholm on November 21, 1960. What a show that must have been. On hand were a wide cross-section of jazz glitterati: Stan Getz, Dizzy Gillespie, J.J. Johnson, Art Davis, Coleman Hawkins, Benny Carter, Cannonball Adderley, Roy Eldridge and many others. Each JATP concert was a loose jam session, an arrangement that almost encouraged showboating, as there were often seven or eight headlining musicians sharing the stage. It also led to some exciting soloing, and that happens in abundance across these eight sides. The interplay between the swing veterans and the bop newcomers transforms some of the numbers, as do a trumpet and trombone dueling or a trio of saxes blazing away. The finest set comes from the smallest ensemble and features Victor Feldman on vibes, an extended chestnut from the Great American Songbook like "Sweet Georgia Brown" bringing the Swedish audience to its feet.
Every Speakers Corner pressing I have heard has been exceptional -- free of sonic artifacts and very quiet to the very bottom of the groove. Here, the silence enhances this live music, which was recorded in mono, the sound of the day. The recording is a bit distant in perspective, but the LPs' quietness increases the sense of immediacy, especially when a good mono cartridge is at the end of the tonearm. Included with the LPs is a booklet on the series that features excerpts from an interview with Fritz Rau, the tour director of the European JATP concerts. He paints an admiring portrait of the driven and temperamental Granz. "He taught me to think," Rau said, but "I never wanted to be like him."
For some inexplicable reason, this music has never been released on CD, which makes these records all the more precious. While 45rpm remastered LPs are all the rage right now, the historic significance and first-class presentation of this set trump a good many of them.