Jason Vitelli • Confluence
Soundkeeper Recordings SR4003
DVD
2012
| | | | | | | |
| --- | --- | --- | --- | --- | --- | --- |
| Music | | | | | | |
| Sound | | | | | | |
by John Crossett | May 13, 2012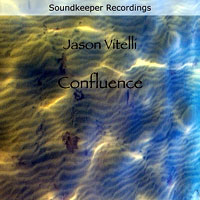 confluence is a combining of forces, people, things. How does that relate to multi-instrumentalist and New York City native Jason Vitelli? Well, with his latest album, Confluence, Vitelli has moved from doing everything himself to combining his talents with those of other musicians. This is a first for Vitelli, who has always worked alone, but Barry Diament at Soundkeeper Recordings captures music in a completely purist process, so overdubbing -- which would have been a necessity for Vitelli -- was out. Vitelli needed help, so he hired musicians who could bring his music to life in single takes, and this album became a confluence of forces, people, things.
Now this purist-recording thing is all well and good. But most of us can remember the direct-to-disk recordings from the 1970s, which were often long on sound quality and short on musical merit. That's not the case here. Vitelli was chosen to do this recording because Diament was impressed by his music. What might have caught Diament's attention was a confluence of influences. I hear everything from Peter Gabriel-era Genesis to prog-rock, with a healthy dose of singer-songwriter fare all mixed together and churned out in a completely individual manner. The songs on Confluence are divided into four "sides." The album starts slowly with the song "Requited," featuring just Vitelli on piano, but by the middle of the disc, with songs like "The Winner" and the rocker "Stay Away," the pace quickens, creating an interesting mix that like most popular music will appeal to some more than others. Confluence is real, original popular music. Vitelli penned all the songs himself, so they are not just a rehash of old music recorded simply to accentuate the sound.
And speaking of the sound, this is where the album shines especially bright. I don't think I've ever heard an original rock recording sound so pure and uncompressed. Diament recorded Vitelli and the band just as they were set up in the studio. As an example, you'll hear the vocals coming from just inside the left speaker. Why? Because that's where Vitelli was sitting during the recording, so that's where the mikes picked up his voice. Because there is no compression, you might think the sound is a tad soft. Not so. You just need to wick up the volume and you'll hear this album in all its glory. The dynamics are outstanding and the tone is spot on -- listen to the piano on the opening track for an example.
These sonic splendors are especially noticeable on the DVD, thanks to its 24-bit/96kHz resolution, as opposed to the CD, which I've heard and is about as good as 16/44.1 gets. The album is also available as files on a disc: 24/192 or 24/96, .AIF or .WAV. The disc eliminates the bother of downloading all that data.