Jason Collett • Song and Dance Man
Arts & Crafts #AC 115CD
CD
2016

| | | | | | | |
| --- | --- | --- | --- | --- | --- | --- |
| Music | | | | | | |
| Sound | | | | | | |

by Vance Hiner | March 30, 2016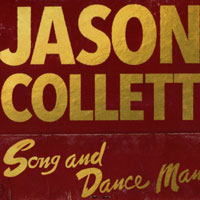 urning 40 can be tough on an artist. The idealism of youth inevitably fades, the public is fickle and it's easy to fall into self-pitying bitterness. On his new album, Canadian indie-rock icon Jason Collett faces the hurdle of middle age head on, turning his discomfort and cynicism into music that is both thought-provoking and fun. The album's title is actually a quote from Bob Dylan's answer to the question Do you think of yourself primarily as a singer or as a poet? Dylan's facetious response was, "I think of myself more as a song and dance man, you know?" Glib humor in the face of life's absurdities is a classic Dylan move, and it serves as a guiding principle throughout the 13 songs on Collett's album.

Collett, who made his mark with the band Broken Social Scene, manages his tightrope walk between sharp social commentary and entertainment with the help of former Feist guitarist and fellow Canadian Afie Jurvanen (who now performs under the stage name Bahamas). I'm a fan of Jurvanen's recordings, and his production skills bring a tongue-in-cheek 1970s breeziness to the sessions that works as a sweet counterpoint to Collett's salt-'n'-vinegar lyrics.

The result combines the best of classic pop song-craft with just the right dash of hipster swag. For example, on the opening track, "Provincial Blues," I hear "Lowdown"-era Boz Scaggs vamping Lou Reed's best New York cool. It's both offbeat and familiar. And that's what draws me to this collection. Collett's decision to add a chorus of happy-go-lucky whistling on a sardonic tune called "Forever Young is Getting Old" is vintage Randy Newman channeled by Harry Nilsson.

In addition to Jurvanen's upbeat bass playing, Collett is joined by longtime musical partners drummer/engineer Don Kerr, guitarist Christine Bougie (who also plays lap steel), and backing vocalist Neil Quinn. The result of this collaboration of friends is an incredibly tight performance that still manages to be organic and natural. Each instrument and voice has its strategically assigned place, yet the whole isn't crowded too closely together. This is a recording that breathes. A great example is the musical amuse-bouche "Little Sparrow." It begins with Collett's warm voice, shimmering guitar tones and a metronome-like percussion line, and eventually swells into a tapestry of lap-steel and guitar fills. It's luscious, tantalizing and over too soon.

The same could be said for the entire album. Instead of repeating itself or falling into clichés, Song and Dance Man is a high-water mark in Collett's career and proves that art can improve with age.