Jaco Pastorius
Epic/Original Recordings Group ORG 114
45rpm double-record set
1976/2012
| | | | | | | |
| --- | --- | --- | --- | --- | --- | --- |
| Music | | | | | | |
| Sound | | | | | | |
by Guy Lemcoe | November 14, 2013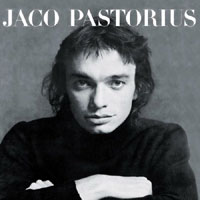 he senseless death of Jaco Pastorius in 1987, when he was 35, as a result of a nightclub scuffle in South Florida, robbed the music world of a musician of uncommon talent and vision. For all his demons -- he was diagnosed with bipolar disorder five years prior to his passing, and nose-dived into a life wrecked by drugs and alcohol -- Pastorius managed to create music of exceptional depth and emotion. During his career, he received two Grammy nominations for this album, his debut, another in 1977 for his work on Weather Report's Heavy Weather, and yet another in 1979 for his work on Weather Report's 8:30. One year after his death, he was elected into the Downbeat Jazz Hall of Fame, following renowned bassists Jimmy Blanton, Ray Brown, Ron Carter, Charles Mingus, Charlie Haden and Milt Hinton.
Pastorius's influence was immediate and caused a stir in the field still felt today. In the process of being called one of the greatest bass players ever, he caused listeners and critics to redefine their concept of the bass's role in music. It became a lead instrument, no longer confined to background/rhythm status. As a sideman, especially with the group Weather Report, which he joined in the late 1970s and remained with until 1981, he contributed funky, dancing bass lines that at times seemed to erupt with joy under the lead lines. Indeed, in videos of him in performance, his energy seems so hard to contain that he bounces, hops, struts and sways along with the beat and manages, at one point or another, to occupy every square inch of the stage.
In 1976, this self-titled LP, produced by Blood, Sweat & Tears founder Bobby Colomby and featuring mostly originals in a variety of styles, was released on Epic records. In addition to highlighting Pastorius's skills as a composer and arranger, the album stunned the jazz/fusion crowd, displaying his startlingly inventive, lyrical soloing and fresh use of harmonics. An often flamboyant solo performer, he demonstrated his dexterity, technical proficiency and inventiveness playing fretted and fretless RotoSound-strung Fender Jazz basses. I suspect that upon hearing this album, fledgling electric bassists around the world scurried to their rooms to practice well into the night.
"Donna Lee" starts things off with an unforgettable arrangement of this Charlie Parker (often mistakenly credited to Miles Davis) bebop classic for bass and congas only. The fingerwork will leave you breathless as Pastorius brings to life the composition. Viewed in the context of jazz improvisation, the performance here is a classic example of the jazz solo, unexpectedly coming from an instrument many had judged incapable of such flair. "Come On, Come Over" is an exercise in funk, featuring legendary singers Sam and Dave, the shouting alto sax of David Sanborn and Herbie Hancock's piano. "Continuum," an ECM-like study in tonal colors, draws lovely sounds from the grooves to wash over the listener. "Kuru/Speak Like A Child" is a Latin-flavored number featuring fleet fingering and a confident Herbie Hancock on piano (in especially fine form), Don Alias on congas, drummer Bobby Economous and a string section masterfully arranged by Pastorius. "Portrait Of Tracy," a study in harmonics, is two and a half minutes of awe-inspiring bass playing. "Opus Pocus" is world-music funk featuring Wayne Shorter on soprano sax and the unique timbre of steel drums. "Okonkole Y Trompa" is an almost classical piece due to the use of a solo French Horn framed within congas and minimalist bass patterns. It is hypnotic, with especially fine French Horn playing by Peter Gordon. "(Used To Be A) Cha-Cha" is a straightahead jazz number featuring Hubert Laws on piccolo and -- no surprise -- another startling bass solo. Laws and Hancock also each take stirring, fiery solos, and the drumming of Lenny White is especially nice on this cut. "Forgotten Love," another original, features the sensitive piano of Hancock nestled into an abstract, ethereal string-choir arrangement.
Original Recordings Group, in keeping with the care lavished on their reissues, does it again with this one -- from the elegant gatefold jacket featuring a beautiful Don Hunstein B&W cover portrait of a serious, youthful Pastorius, to the liner notes with Herbie Hancock's knowing comments, to the facsimile of the Epic label. The 180-gram, RTI-pressed, dead-flat vinyl is kept in heavy static-free sleeves. I detected nary a pop or click on any of the four sides. Spinning at 45rpm, the LPs' dynamic range was as wide as I've heard, and the temptation to "turn it up" was hard to resist. I yielded and cranked the music to levels I don't normally listen. Not once was there any indication of distortion, compression or other ugliness in the Bernie Grundman mastering. Transients were outstanding, exhibiting plenty of "jump factor." I don't have an original LP for comparison, but I suspect it never sounded this good.
Pat Metheny said in his liner notes to the 2000 CD reissue of this album, "Jaco Pastorius was one of the most important musicians of our time -- the fact that this was his first record is simply astonishing." Amen to that.