Ian Dury and the Blockheads • New Boots and Panties
Demon Records/Speakers Corner Fiend 63
Single 180-gram LP
1977/2012
| | | | | | | |
| --- | --- | --- | --- | --- | --- | --- |
| Music | | | | | | |
| Sound | | | | | | |
by Roy Gregory | July 2, 2012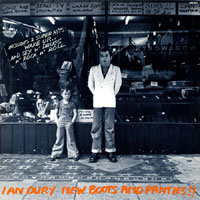 s far as I'm concerned, reissue houses should spend a little less time repressing fabulous-sounding recordings and more re-releasing truly great albums. Sometimes great sound and great music coincide, but not often -- and given the choice, I'll take the music every time. Some great albums break new ground or reveal new talents, some contain sublime artistry and others just seem to define a moment in time. If Never Mind The Bollocks and London Calling captured the brief, brilliant flare of punk, it's New Boots and Panties that marks the tipping point between the visceral verbal and tonal violence, the spurting, self-immolating anger of The Clash and The Sex Pistols, and the more reflective longevity of new wave. The Cure, The Jam, Joe Jackson, even Blondie -- all have produced career performers that are still active (and seriously respected) today. But it was Ian Dury who marked the bridge between the destructive vortices of punk and the street-savvy new wavers, with a dozen perfectly crafted ditties, full of character and verbal sleight of hand, by turns clever and suggestive -- and ultimately more deeply, thoroughly, personally offensive to those upright members of the establishment than anything that punk produced.
It was called new wave for a reason. It was pop, but not as we knew it then -- and certainly not as we know it now. There was nothing here about being young, beautiful, rich and right. There was precious little philosophy and even less popcorn. These were songs about being disadvantaged in a depression, crippled physically and financially; songs about the daily grind, the twin obsessions of getting by and getting laid. Their wit and intelligence are undeniable, their linguistic dexterity marvelous to behold, but it's hard to escape the conclusion that the only reason Dury polishes his boots is so that he can get that much closer before administering the mental kicking. This is kitchen-sink drama of the Saturday Night and Sunday Morning school -- but without the British Board of Film censors wielding the scissors.
Time for a sample, the opening verse of "Billericay Dickie":
" 'ad a love affair wiv Nina, in the back of my Cortina.
A seasoned up 'yena could not 'ave been more obscener.
She took me to the cleaners, and uver misdemeanors,
But I got right up between 'er, rum and 'er ribena."
You don't need to know that a Cortina was Ford's mid-priced, mid-sized motor of the day, famed for its low secondhand price and large rear seat; or that Ribena is a black-currant cordial, popular as a super-sweet mixer amongst Essex girls. You don't even need to know where Essex is or the generally held opinion of the region's young ladies and their moral rectitude. All you need to hear is Dury's joyously frank and lascivious delivery to get a very clear picture indeed.
By now, you'll know whether New Boots is right up your street -- or not. Because this is the genuine article, with no room for ambivalence or indifference. You've been there, you get it -- or you don't. And if you don't, that's a shame, because there's much to admire here, lyrically and musically. The words are powerful, the tunes are catchy and beautifully arranged by the multi-talented Chaz Jankel, while the playing is as tight as one of Charley Charles' drum skins.
The stunning impact of New Boots was no accident. Years on the pub circuit had honed Dury's talent and cutting wit. It can't have been easy being a frontman with legs withered by childhood Polio, especially in those less-than-kind times. Despite that, he achieved cult success as Kilburn and the High Roads, a nod to that bizarre English tradition of naming rock bands after iconic road signs (Hatfield and the North, anyone?) as well as an early indicator of his wry wit and self-deprecating humor. But in mid-'75 the High Roads ground to a halt, leaving Dury to find a new solo home at Jake Riviera's nascent Stiff Records. It was a marriage made in heaven. Stiff's first tour featured virtually the label's entire roster (including Dave Edmunds, Nick Lowe and Rachel Sweet) and went out under the glorious slogan, writ large on posters and stage, "If it ain't Stiff, it ain't worth a fuck." Dury was clearly home -- and how!
It was only a matter of time before the fireworks began, and it was his meeting with Jankel that lit the fuse. A cultural sponge who simply seemed to suck in and assimilate any passing genre, past or present, he played the mean lead guitar and a rollicking pub piano that became hallmarks of the Dury sound. Next came the assorted bunch of session men, soon to achieve fame as the Blockheads: Davey Payne from the High Roads, the astonishing Norman Watt-Roy on bass and Mickey Gallagher and John Turnbull, drafted in along with Charles from The Loving Awareness. The cast was complete -- the perfect backing band. All they needed was a singer to support, and in the unlikely shape (and voice) of Dury they'd found their man. Short, brooding, misshapen and sparky, it was with Dury's semi-spoken delivery, his sardonic lines delivered with a flash of anger, a curl of the lip and an accent that dropped H's like little atom bombs, that punk grew up. Finally it was okay to be offensive (or "challenging," as they'd say today) and clever! It was Dury who finally gave a voice and a path to the disinherited young of the Thatcher years, and they seized it with a vengeance.
New Boots was released in September '77, the same month as Talking Heads 77, an album that represented just as great a musical milestone. But the two had something else in common -- great sound. 77 had a jangly immediacy and drive that captured the nervous energy of the band to perfection. But New Boots was in another league, its solid, chunky presence and mobile, funky bottom end the very evocation of Dury's sweaty, earthy, edgy lyrics. There was something deeply satisfying about the sheer grubby dirtiness lurking in those grooves, a sense that communicated all too directly with the libidinous frustrations of its audience. This was an album that connected on the most basic musical level of all, simply because it succeeded in communicating the very essence of the band's performance. Substance, weight, drive, attack and dynamics, color, contrast and a sure hand on the desk: all the ingredients that mark out the golden age of UK pop recording.
But the record itself was a victim of its own success. Immensely popular, secondhand examples are easy to find with even late pressings displaying the same sonic DNA. The problem is, they've invariably been partied -- heavily. Clean pressings in good nick are almost impossible to find, which makes this reissue from Speakers Corner especially welcome. Speak to Kai Seemann and he'll tell you that, generally speaking, reissuing great-sounding recordings can be a thankless task, the original pressings leaving you little room for maneuver. But that isn't the case here, simply because early pressings in decent condition are so hard to find. Unless, that is, you still have your pristine original pressing which somehow survived the college party-go-round -- like mine (he says, somewhat smugly).
My original, gray-label Stiff pressing is meaty, big and bouncy, with all the intent and energy that the music demands. But despite Herr Seemann's reservations, it can't hold a candle to the reissue. The Speakers Corner pressing demands a significant readjustment of VTA (more than one complete revolution of the JMW tower), but once you get things optimized the comparison becomes strictly no contest. The instrumental separation, space and delicacy, harmonic resolution and vocal inflections are all significantly improved. But it's the solidity and drive that really impress. The extra dynamic range and definition really carve out the edges on the rhythm, from the funky, grinding bass line of "Wake Up And Make Love To Me" to the halting two-step of "Partial To Your Abracadabra." This is a tight band and the internal communication is that much more obvious on the 180-gram disc. Just listen to the guitar breaks on "Partial. . . ," the way they lock into and chime against the accents and underpinning supplied by the rhythm section. The same is true of the sax solo on "My Old Man," soaring and meandering over, but never losing touch with Norman Watt-Roy's rock-solid walking bass. When Jankel drops in some jazz-guitar doodles, nothing could seem more natural.
But at the end of the day, it's all about the voice, and the reissue simply delivers a more natural, more characterful and more credible vocal. The sheer range of Dury's accents, his edges, his sneers and his transitions, from half spoken to sweetly sung to raspingly course, all pass fluidly and completely naturally, adding to the dramatic contrast and humor of the songs. This is singing with attitude, and the Speakers Corner LP delivers it intact and in your lap, just like it should be -- up close and (uncomfortably) personal.
In some respects this could be considered a brave choice for an audiophile label. In others it's a no-brainer. Speakers Corner is much more a music label than an audiophile label. That they also produce consistently excellent-sounding records is just a bonus. New Boots was long overdue a reissue, and kudos to Kai Seemann and Speakers Corner for not just delivering but doing so in such spectacular fashion. Dury may never have scaled these dizzy heights again -- at least not across a complete album -- but his considerable best just got a whole lot better. I can't recommend this album highly enough (as many who know me will testify), but even if you decide it's not for you, it's still worth keeping around. Anything that can clear undesirables from a showroom as quickly as this is cast iron guaranteed to work on the in-laws!