Jasha Heifetz and Gregor Piatigorsky • Concerts
RCA/Impex Records IMP6025 & IMP8314
180-gram LP & Hybrid SACD
1964/2016

| | | | | | | |
| --- | --- | --- | --- | --- | --- | --- |
| Music | | | | | | |
| Sound | | | | | | |

by Dennis Davis | August 29, 2016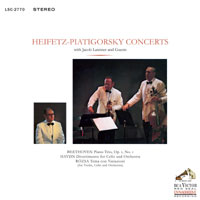 f all the complaints from music lovers about reissues, far and away the most repeated grievance is that the reissue labels churn out the same titles over and over again. How many copies of Kind of Blue do record buyers want or need? While sales figures belie the desire for more obscure repertoire, there is little question that first-time reissues of quality material are rare. Well, here is such a rarity -- a debut reissue of well-recorded, remarkable music that sounds far better than ever before. Impex has met this challenge with a record of mostly classical chamber music, which usually appeals to a pretty rarified market of music lovers. However, this is very accessible music and should appeal to a broad spectrum of listeners seeking exceptionally well-recorded music.

In 1961, violinist Jasha Heifetz and cellist Gregor Piatigorsky, both in semi-retirement, launched the Heifetz-Piatigorsky Concert series to share chamber music recorded live in concert and in the RCA studios. To give a sense of the breadth of this project, I note that the recordings were issued in a bargain-priced 21-CD set, now out of print and no longer a bargain on the used market. The overall quality of the recordings was not always stellar, and the CD set did not improve on that situation. One of the gems of the catalog was RCA LSC-2770, which this LP reproduces. A 1964 release, it fell in RCA's Dynagroove period, a process that combined dynamic compression, bass boost and treble pre-distortion that compromised RCA releases between 1963 and 1970. Dynagroove LPs were roundly denounced in the audiophile press and by most everyone not on RCA's payroll.

The LP replicates the original LP, with side one taken by Beethoven's Piano Trio Op.1, No.1, an ambitious artistic statement that Beethoven, at the age of 24, performed and revised until it met his full satisfaction. As the liner notes make clear, this is not Beethoven's first published composition, but the first one assigned an opus number. It's a stunning and intense piece, and like the rest of the set it presents the three instruments in a life-size and accurate soundstage.

If there were nothing else on this LP, the reissue would be a success, but side two starts with Haydn's Divertimento for Cello and Orchestra, an arrangement by Piatigorsky of a few divertimenti written by Haydn for the baryton, a relative of the viola da gamba. The Haydn clocks in at under ten minutes; the balance of the side is taken up with Miklós Rózsa's Tema con Variazioni for violin, cello and orchestra, seven variations written shortly before the concert by film-score composer Rózsa, who composed concert music in his spare time.

Impex has also issued this music as a hybrid SACD and filled out the digital disc with Joaquin Turina's Trio No.1 for Piano, Violin and Cello, Op.35. Turina was a Spanish composer, a contemporary of Manuel de Falla and Isaac Albéniz. His composition Danzas Fantásticas is well known to record collectors from the classic Decca recording with Ansermet. This 1967 trio recording was from another Heifetz-Piatigorsky Concerts issue [RCA LSC-2957]. TAB contributor Richard Freed wrote the liner notes for that LP (reprinted for this SACD), and he found the recording and music exceptional. I'll certainly not contradict his verdict.

Abey Fonn of Impex and her mates obtained the original three-track analog tapes that were then mixed to two tracks by Andreas Meyer of Meyer Media. Kevin Gray of Cohearent Audio and Robert Pincus of Impex mastered the LP and SACD, with the LP pressed at RTI. It's hard to parse out what improvements result from dropping the Dynagroove mastering, what results from the superior mastering chain, and what results from the thicker, quieter vinyl pressing. The recording quality was among the best of the Concert series, with the players arrayed in a lifelike soundstage and the balance among the instruments nearly perfect. I'm not sure how many of the performances preserved in the 21-CD set were issued on vinyl, but none I've heard sounded better than the original pressing of this LP, and this reissue is significantly better still, with more body, although the SACD is very close. Call me old-fashioned, but I appreciate the fact that the Beethoven trio takes up all of side one, so when it ends, your reverie is gently nudged by the swish of the stylus in the lead-out groove, instead of the beginning of an entirely new piece.

Impex has one of the best batting averages of all reissue labels in coming up with good material, and the label deserves kudos here for selecting an obscure title with no collector value for reissue. It breaks all of the rules that favor records that are Super Discs, well known and sought after, or have rarity on their side. I pray that the tastes of the audiophile community will prove this reissue to be a successful gamble.