Haydn • Symphony No.101 "The Clock"
Scottish Chamber Orchestra, Robin Ticciati conducting
Linn Records CKH 600
180-gram 45rpm LP
2015

| | | | | | | |
| --- | --- | --- | --- | --- | --- | --- |
| Music | | | | | | |
| Sound | | | | | | |

by Tim Aucremann | February 15, 2016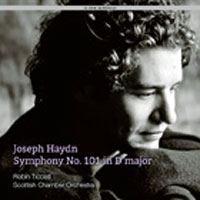 obin Ticciati and the Scottish Chamber Orchestra offer a fresh reading of Haydn's famous Symphony No.101 on this Linn 45rpm LP. Now in his seventh season, Ticciati took the SCO's principal conductorship at the remarkable age of 25, shortly before the death of Conductor Emeritus Sir Charles Mackerras, who began the orchestra's association with Linn.

Ticciati puts his mark on Haydn's work with an approach that combines mostly modern instruments with period style. In a twist, the SCO brass section uses valveless horns and trumpets similar to 18th-century instruments. Their brassy-yet-less-than-golden hue coupled with largely vibrato-free string playing lend a distinctly baroque seasoning to the larger-than-baroque sound. That seasoning is carefully dosed and the overall character of Ticciati's interpretation offers the listener something of a hybrid perspective on one of Haydn's most stylistically Classical-period symphonies.

Haydn's final twelve symphonies (including his 101st, written at age 64) are robust with ever-young light-filled freshness. The No.101 was composed between 1794 and 1795 at the zenith of his genius and on his second trip to London. Haydn coupled melodic invention and a formal stylistic variety (that went well beyond the baroque) with a career-long effort always to write music that was popular. He succeeded. He was a rock star in the British capital where his audiences loved his final twelve. Symphony No.101 begins with the typical Haydn device of forming his first movement from a slower Adagio that stops quickly then proceeds full throttle as a lively Presto, here in the 6/8 time normally reserved for a finale.

Ticciati brings his own interpretation to "The Clock" while showing himself to be a careful student of Haydn. His Adagio is dark, more dirge-like than dramatic, while his Presto takes up another Haydn technique of using sharp dynamic contrast as a form of phrasing. The Andante is where the clock arrives with a humorous to-and-from ostinato tick-tocking from bassoons followed by melodic strings in the upper octaves. Haydn was a genius at using orchestration to create interest, as evidenced by his switching registers to have a flute do the ticking with the melody below. Again, the music shifts between light and heavy dynamic contrasts. Ticciati takes all the repeats throughout the piece and rightly preserves the third-movement architecture of Haydn's minuet-trio-minuet (a hallmark of the third movement in Classical-period symphonies) by actually performing the second minuet that modern interpretations sometimes drop. Likewise he highlights oboes and bassoons to keep the trio lighter than the surrounding processional minuets. The Vivace: Finale is both lively and a touch mellow. By taking up the first notes from the subject of the Andante, Haydn unifies the work. The finale proceeds through several climaxes and relaxations, ending in a last build-up of intensity.

Linn deserves accolades for a pressing that was perfectly flat and quiet, with no clicks, pops or groove noise. Spreading the symphony across two sides at 45rpm, nicely split by movements, assures a sound free of compression with deep authoritative bass and a wide dynamic range. Orchestral sonics did not fare quite as well, however. Interior woodwind voices -- some of the highlights of the piece -- were oddly lacking in transparency, with a touch of murkiness. Horns and trumpets evinced shallow dynamic emphasis and lacked a bit of the unique hue of which valveless brass is capable. The presentation was very close to -- as if taken from just behind -- the conductor. My sense is that reflected sound causes a slightly muddled character that gets in the way of clarity.

Be that as it may, Ticciati's interesting interpretation and a zesty performance from the SCO shine through. This performance was also included on a hybrid SACD from Linn with two earlier Haydn Symphonies (all in D-major), and the label is planning a future release of three more with the same principals. Let's hope for another Haydn LP.