Grieg • Complete Symphonic Works, Vol. 1
Symphonic Dances, Peer Gynt Suites Nos. 1 and 2, Funeral March for Rikard Nordraak
WDR Symphony Orchestra, Cologne; Eivind Aadland conducting
Audite 92.651
Hybrid Multichannel SACD
2011

| | | | | | | |
| --- | --- | --- | --- | --- | --- | --- |
| Music | | | | | | |
| Sound | | | | | | |

by Richard Freed | November 11, 2011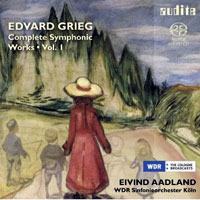 n 1896 Edvard Grieg, by then 53 years old and with his best-known works well established, composed a four-movement work for piano duet which he brought to completion two years later in orchestral form as his Symphonic Dances, Op. 64. This is as ingratiating and fascinating as anything Grieg composed earlier, and might well be regarded as a substantial four-movement symphony built entirely on attractive folk tunes.
It happens to be, however, one of those works we never hear in our concert halls, but come to know entirely through recordings. It has been recorded in the US, the UK, Estonia, Denmark, Sweden, Germany and Ireland as well as in Oslo and Bergen, under conductors of as many nationalities; not one of those recordings has failed to please, and this latest one, dominating the first release in what is to be a five-disc survey of all of Grieg's orchestral music, is perhaps the finest yet in respect to sound quality as well as performance.
Eivind Aadland, who is 55, grew up in Grieg's own part of Norway. At first a violinist, he served as conductor of the Trondheim SO for the seven years preceding the sessions in Cologne that initiated his Grieg project. The happy impression that he was simply preordained for such an undertaking comes in large part from his steering clear of anything resembling grandiosity. His focus on the folk element that defines the Symphonic Dances ensures a light touch, transparent textures, and a fetching air of spontaneity. Momentum, instrumental balance, and all the other attributes of a winning performance seem to flow effortlessly from this sensible, uncalculated approach in the other works on this disc as well -- the familiar Peer Gynt suites and the seldom-heard Funeral March in Memory of Rikard Nordraak -- which are similarly refreshed here.
Throughout the 73-minute program the first-rate sound gives a broad, well-balanced, altogether realistic image of a fine orchestra enjoying its collective self to the fullest, sharing its enthusiasm for this music. While all these pieces have been well served in earlier recordings, the interpretive insight, assured and committed orchestral playing, and exceptional sound quality in evidence here come together to render this disc not just "a cut above" but downright irresistible -- and create the highest expectations for the four other installments in this well launched series.