The Grateful Dead • Reckoning
Warner Bros./Analogue Productions AAPP 8604
200-gram double-record set
1981/2011
| | | | | | | |
| --- | --- | --- | --- | --- | --- | --- |
| Music | | | | | | |
| Sound | | | | | | |
by Paul Bolin | August 30, 2012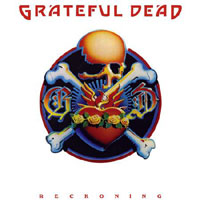 or audiophile fans of the Grateful Dead, the past year has seen an embarrassment of vinyl riches. Not long ago I reviewed the Mobile Fidelity reissue of Live/Dead, and Analogue Productions has reissued both Terrapin Station and this remarkable document of the Dead going unplugged decades before it became fashionable.
Shortly after the turn of the 1980s, the Grateful Dead played a series of acoustic sets at San Francisco's Warfield Theater and New York's Radio City Music Hall. Jerry Garcia and Bob Weir ditched their electric guitars, Brent Mydland stuck exclusively to acoustic piano, and Mickey Hart and Bill Kreutzmann played stripped-down kits and hand drums. Only bassist Phil Lesh remained electrically amplified, and he turned down, way down, to fit in gracefully with the rest of the band. The music was a combination of Dead classics leavened by old country, folk and blues tunes in more than just a nod to Garcia's early-1960s roots with Mother Machree's Uptown Jug Champions. Recorded by Dan Healy and Betty Cantor-Jackson, the original LP was released in 1981.
Reckoning had good enough sound in its original form that it has been a common reference LP for me over the last twenty years. Along with the eponymous (and live) Old And In The Way, which featured Garcia, Peter Rowan, Dave Grisman, John Kahn and Vassar Clements, Reckoning has been my go-to for the sound of an acoustic band in real space. The Dead's performances were crisp, beautifully played, and the very model of sympathetic and communicative musicianship; the band's deep love of and commitment to American roots music has never been more evident. Just as Live/Dead captures the early psychedelic-era Dead at that group's peak, Reckoning captures the mature, acoustic Dead kicking back and playing favorite tunes of their own and others from the sprawling American songbook.
That Analogue Productions head honcho Chad Kassem has an uncanny ear for selecting superb originals on which to lavish his perfectionist ministrations has never been in question. One need only look at a few of his releases to know that his taste is as good as it gets: Dusty In Memphis, Ray Charles' Genius + Soul = Jazz, Getz/Gilberto -- you get the picture. Reckoning is a more-than-worthy entrant in the exceedingly distinguished Analogue Productions catalogue.
Before listening to the reissue I pulled out my original copy and listened to most of it. It always was and still is a fine LP. The mix is clean and uncluttered, the timbres very good and the space around the band provides a discernable context and cushion of air for the band. Then I put on the Analogue Productions reissue. Suddenly, as the Dead kicked in to "Dire Wolf," they holographically manifested themselves just behind and between my Wilson Sashas. Bob Weir and Jerry Garcia's acoustic guitars had full-sized wooden bodies and Garcia's voice had a stunningly lifelike quality. Vocal harmonies were full-blooded and tingle-inducing. Mickey Hart's gentle cymbal taps, plain as a pikestaff on the reissue, hadn't even been apparent on the original pressing. Moving on to the George Jones tune "The Race Is On," Weir's voice was mellow, life-sized and utterly, naturally present while Garcia's guitar sparkled and Brent Mydland's piano rang true and clear. This was demonstration-quality sound coupled with great American music.
And so it was on every track of this splendid reissue. Vividly three-dimensional images as big as life popped forth from a background of absolute silence. Acoustic-guitar transients were so natural that they were genuinely surprising. Details that passed unnoticed on the original emerged to fill out an entrancingly embroidered tapestry of music. The contextual space of the venues neatly overlaid themselves on my listening room -- and in order to be more like the real thing the Dead would have had to be in my listening room, and well behind the front wall in some cases.
Mastered by Kevin Gray from the original master tapes and pressed on massive 200-gram vinyl biscuits at Kassem's Quality Record Pressings, this Reckoning features a foldout cover with full credits printed on thick, nearly archival-quality stock. The records themselves are absolutely flawless and dead quiet. It is my considered opinion that Quality Record Pressings is making the finest LPs that have ever been heard. I honestly cannot think of one thing about this release that could be improved. A total triumph in every way.