Gershwin • Porgy & Bess
Chamber Orchestra of Europe, Nikolaus Harnoncourt conducting; Arnold Schoenberg Chorus
RCA Red Seal 88697591762 DDD LC00316
Three-CD set
2010
| | | | | | | |
| --- | --- | --- | --- | --- | --- | --- |
| Music | | | | | | |
| Sound | | | | | | |
by Leonard Bloom | November 12, 2010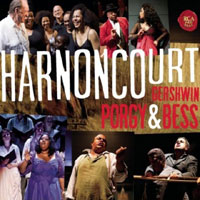 eventy-five years ago, George Gershwin completed his most ambitious and perhaps his best work, Porgy & Bess. Featuring an all-black cast, the stage premiere opened on Broadway in September 1935 after a few previous tryouts in Boston. The New York production ran for only 124 performances, collapsing under the weight of negative reviews and lackluster financial backing. Based on a play called Porgy by DuBose and Dorothy Heyward, the libretto was composed by DuBose, who then partnered with George's younger brother Ira as co-lyricist.
RCA Red Seal's current set is a transcription of a live performance recorded at the Styriarte Festival in Graz, Austria. Nikolaus Harnoncourt, the distinguished Baroque period-instrument iconoclast, conducts the accomplished Chamber Orchestra of Europe, and the performance also combines the colorful singing of the Arnold Schoenberg choir and a children's chorus. Harnoncourt admits to a familiarity with the score since childhood and praises Gershwin as pioneering the crossover from Broadway musicals to concert audiences. The German conductor further contends the opera is an "American Wozzeck," a rather astonishing and moot comparison with Alban Berg's masterpiece, notwithstanding Gershwin's personal admiration for the celebrated Viennese composer.
In recent years, certain musicologists have classified Porgy & Bess a "grand opera." Gershwin preferred "folk opera" because he conceived it as a folk tale in which people would, naturally, sing folk music. Harnoncourt uses the original 1935 score, making some judicious cuts of recitatives and leitmotifs (Gershwin admired Wagner's operatic use of them), which were ultimately approved by the composer. On the other hand, as a prelude to the final scene, Harnoncourt restores the original, lovely "Symphony of Noise" for percussion, which some modern conductors have deleted from their interpretations.
Recently, in various stage productions as well as in studio and live recordings, Porgy & Bess has been frequently revised and "improved" by sundry directors and other musical artists. In Harnoncourt's hands, some parts are deleted from the original production, others rearranged, with minutes trimmed from full-length versions by Rattle, DeMain and Maazel. While claiming that the opera has no European roots, Harnoncourt conveys the notion that he has tried to set goals by European standards in producing a fresh, modern version of the opera's dramatic personality and intricate lyrical score.
From beginning to end, Harnoncourt's pacing of the music is idiomatically alert and persuasively free-flowing. Moreover, his sensitive handling exudes dramatic boldness, with a broad approach to the music's exuberance and orchestral details, dovetailed with polished textures and radiant choral singing. But there are brief interludes in the score where he drops his guard, so to speak, causing the forward thrust of the instrumentation to sound too precise, foursquare and stiff. Apart from the conductor's earnest efforts to infuse new ideas into the opera, sporadically missing are minor elements of humor and tenderness inherent in the lesser melodramatic moments of the libretto.
The wonderfully trained musicians of the Chamber Orchestra of Europe respond expertly to the sharp articulation of Gershwin's difficult and rather catchy score. They are diligently watchful of Harnoncourt's keen sense of the work's brilliant orchestration. The instrumentalists execute deftly, reflecting their astute immersion in the idiom. High marks are also given to the children's chorus, which collectively performs vigorously and astutely in tone and brightness.
Sonically, there are moments of volume disparity, some of the vocalists creating occasional disproportionate ranges in highs and lows. However, on the whole, RCA's engineering team has produced a welcome interpretation of the opera, capturing its musical buoyancy, tonality and resonance.