Gerry Mulligan Quartet • What Is There To Say?
Columbia/Original Recordings Group ORG 111
45rpm double-record set
1959/2011
| | | | | | | |
| --- | --- | --- | --- | --- | --- | --- |
| Music | | | | | | |
| Sound | | | | | | |
by Marc Mickelson | February 24, 2012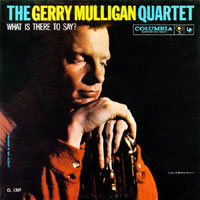 mong those who know jazz, you'll hear endless debate over who is the greatest pianist or tenor saxophonist, especially as you break the music down into its categories -- swing, hard bop, avant-garde, etc. But there is little doubt that Gerry Mulligan was the greatest baritone sax player. He could hang musically with just about everyone, and his dexterous playing -- a byproduct of his early days as a pianist -- opened up musical opportunities for his imposing instrument. He recorded for every major jazz label throughout the entirety of the 1950s and 1960s, producing five-star dates for them all, and he made worthwhile recordings all the way into the 1980s.
What Is There to Say? was a date from 1959 that included Art Farmer on trumpet, Bill Crow on bass and Dave Bailey on drums. The session's lack of piano underpinning required that both Mulligan and Farmer carry rhythm and melody in equal measure. This is more cool than hard bop, Mulligan's and Farmer's inventions alternating between tight interplay and distinctive, personal soloing. There are some especially fine moments between the duo on two Mulligan originals, "Festive Minor" and "Utter Chaos," with the leader playing something closer to a backup role.
This is one of the better-sounding late-'50s Columbia sessions. While it still has the hard right-left stereo spread of so many jazz recordings from its time, with little happening in between the speakers, the horns' up-close perspective provides a sense of vividness. I have early stereo and mono originals and prefer the mono for its lack of stereo issues and greater tonal purity. The stereo Original Recordings Group reissue has two important technical advantages over either original pressing. The first is the faster playback speed, which makes for a less crowded groove and greater density of musical information. The horns sound both bigger and more complete, possessing a rounded fullness that neither original conveys, and the drums now anchor the center. The second advantage is the fact that the reissue was cut with the RIAA EQ curve instead of Columbia's house curve. Played back at RIAA, my original pressings are thin and grayish throughout and somewhat splashy in the treble, while the reissue sounds well balanced and complete -- simply better.
How much better? Well, no reissued CD, no SACD, will offer an equivalent level of improvement over an earlier version -- not even close, in fact. And while you can certainly change the sound with a different amp or speaker, you still won't retrieve the musically significant detail from the originals that this reissue makes plain.
Put another way, the ORG LPs cream my near-mint six-eye pressings, and there's nothing more to say than that.